All Round to Mrs Brown's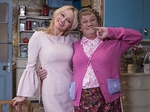 The mammy of BBC comedy Mrs Brown is inviting the nation round to her house for a brand new Saturday night entertainment show on RTÉ One and only the bravest celebrities will make their way through the front door.
Across the series RTÉ One viewers will see celebrities put on the spot in a house where chaos reigns and some even have their own mammies join them on the couch for Cathy Brown's new showbiz vlog. Alongside all the celebrity mischief, there will be surprise audience shenanigans, cooking from a new member of the family Chef Aly, live music from Foley's pub, lit up like you've never seen before and Agnes teams up with Winnie to answer the most bizarre dilemmas sent in by the audience.
Agnes will celebrate all the incredible mammies out there each week with her Mammy of The Week Award; Father Trevor and Father Damien share their uniquely innocent view on the world with their Thought for the Day and all is revealed on what really goes on during Dermot and Buster's new Celebrity Tours business as they recruit the help of a different celebrity guest each week.
What could possibly go wrong? Fasten your seatbelts for a rollercoaster of a show with never ending laughs, surprises, audience games and all round entertainment from everyone's favourite family.
Episode one will feature supermodel icon Pamela Anderson; Judy Murray, the mum of tennis star Andy; and Louis Walsh, plus music from James Blunt.
With the double bill of Mrs Brown and The Ray D'Arcy Show, viewers can expect one-two punch of knock-out entertainment for Saturday nights on RTÉ One.