Aisling Bhreandáin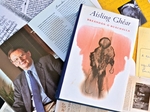 Monday 5th Sept at 7.30pm on RTÉ One
Is scannán ar shaol agus ar shaothar Bhreandáin Uí Bhuachalla ( 1936 - 2010) é Aisling Bhreandáin.
I gCorcaigh a rugadh agus a h-oileadh an Buachallach. Ba í an teagascóireacht a ghairm saoil agus an scoláireacht a cheird. Chaith sé tréimhsí ag teagasc in Ollscoil na Ríona Bhéal Feirisde, san Institúid Ard Léinn, mar Ollamh I gColáiste na hOllscoile Átha Cliath agus ar deire in Ollscoil Notre Dame, Indiana.
D'fhág sé mór shaothair liteartha agus foillsiúcháin ina dhiaidh ar shaoidheacht agus ar litríocht na nGael; ar na filí agus go háirithe ina mhór-shaothar - Aisling Ghéar - léirigh sé mar a luigh eachtra na Stiobhartach agus na Seacaibíteach lena mhacasamhail de aontréith ársa a bhí sa tsaoidheachta Gaelach le na cianta.
Bhí Breandán Ó Buachalla ariamh ina crann taca ag an Saol Gaelach agus bé urlabharaí agus eisiompláir an tsaoil sin é agus is ag cur lena saoidheacht a bhí gach tráchtas uaidh.
Creidtear nach bhfuair sé an t-aitheantas ba dhual dó lena mharthain, ach go dtuigfidh glúnta atá le teacht mar a scal sé solas ar chúinsí dorcha ár saoidheachta.
Aisling Bhreandán is a film on the life and work of Breandán Ó Buachalla (1936 - 2010).
Breandán Ó Buachalla was a noted scholar and teacher. Born and educated in Cork city, he lectured in Queen's University Belfast, was professor of Modern Irish Literature at UCD, was visiting professor at New York University and ultimately the Professor of Irish Language and Literature at Notre Dame University.
Breandán Ó Buachalla published on an amazing broad spectrum of topics: the literature and ideology of early modern Ireland, Gaelic poetry, early modern Irish historiography and the cult of the Stuarts in Irish literature. When Ó Buachalla's most noted book, Aisling Ghéar, was published in 1996 it was hailed as one of the great books of Irish scholarship and the greatest scholarly work published in the Irish Language. He demonstrated that " King James's flight from Ireland facilitated his entry into a well-defined messianic niche in traditional Irish ideology."
Ó Buachalla was also a great champion of the language and of those whose vernacular it is, and was a frequent campaigner on their behalf, and was to them as well as to his students an inspirational persona.
Many of his contemporary scholars believe that he revolutionised the study of Irish History and has still to receive for this and for his vast output of dissertations a more deserving recognition of his scholarly achievements.
Written, Produced and Directed by Breandán Feirtéar