Against the Head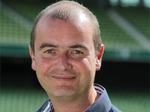 Against the Head brings viewers an eclectic mix of interviews, highlights, reviews as well as discussion of the burning issues in Irish rugby.
The series runs for the busiest period of the rugby season, which takes in the Six Nations Championship, Heineken Cup and AIB League and Cup, and brings its audience the latest news on developments within the game. The programme also visits a number of local rugby clubs and gives the audience a chance to voice their opinions.
The programme focuses particularly on Irish rugby at international, European and domestic levels, reviewing and previewing the pertinent stories and issues of the day in the rugby world.