A Different Country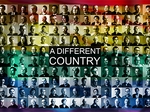 Prior to 1993 homosexuality was illegal in Ireland. On Saturday 20 February 2013 the journey began to record and film the personal recollections of those people who lived in Ireland when it was a crime to be gay. A time when to openly express one's sexuality could result in job loss, ostracisation, physical attack and estrangement from family.
In one of the largest and most ambitious projects of its type ever undertaken in Ireland, members of the LGBT community reveal for the first time the astonishing true story of how this community first mobilised to change the laws around homosexuality. This revolution ultimately culminated in watershed changes in law and momentous scenes at Dublin Castle when Ireland introduced same sex marriage.
A Different Country, a landmark documentary, chronicles some of these vital stories, about a time when the LGBT community were almost totally hidden.
Among those featured in the programme are Terri Blanche, Tom Brace, Declan Buckley, Noel Buckley, Suzy Byrne, Clem Clancy, Claire Farrell, Bill Foley, Karl Hayden, Patrick Lynch, Victoria Mullen, David McConnell, Ciaran McKinney and Tonie Walsh as well as Phil Moore and former President Mary Robinson.
Winner of the Best Documentary feature award at the GAZE Film Festival.