Abhainn Series 2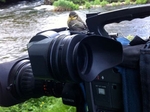 A new series of ABHAINN: returns on RTÉ One - Cláracha Gaeilge explore another three of our rivers from source to sea. The Suir, The Foyle and The Feale - ABHAINN: takes us on a visually stunning journey revealing the unique personality of each river and the stories both ancient and new that tell us who we really are.
Rivers are more than just a geographical feature in our landscapes. For thousands of years rivers have been part of who we are and have shaped what we have become. Rivers have taken on magical, religious, mythical qualities in ancient times. They've been the major transportation routes of old, which opened up the country to newcomers both welcome and unwelcome, they're the motorway network of ancient times. As natural barriers Rivers are and have traditionally marked the borders of tribal territories - often fiercely defended. River crossings have been the venue for many a battle. In later centuries the energy of our rivers have been captured by watermills and hydro electric plants but this intrinsic life force and energy has always been recognised in ancient Irish cultures for whom the rivers were living goddesses.
Abhainn: An tSiúir, Monday 10 October at 7.30pm
Abhainn: An Feabhal, Monday 17 October at 7.30pm
Abhainn: An Fhéil, Monday 24 October at 7.30pm
Programmes
Programme One - Abhainn: An tSiúir
From humble beginnings in the Devil's Bit Mountains in Tipperary, the River Suir flows gracefully through some of Munster's most beautiful countryside until it empties itself into the sea at Waterford Harbour. At 114 miles long from source to sea, the Suir is one of Ireland's longest and greatest rivers.
Abhainn: An tSiúir takes us on a memorable journey along the course of this most varied of Irish rivers.
The River Suir begins as little more than a babbling brook but as it flows downhill, it gathers pace and character. For a time, it manages to hide itself through deep foliage such as that at Garret's Mill Bridge, but it's not long before it displays its beauty as it makes its way through Thurles, Holycross, Cahir, Clonmel, Carrick-on-Suir and Waterford City.
The River Suir has been an active witness to all stages of Irish history. Early settlers used it for transport and food, while later visitors such as the Vikings and the Normans used it as their commonest point of entry into Ireland. Strongbow, Gráinne Mhaol, King John and Cromwell have all crossed its famous banks, so it's no surprise that the course of the river is studded with ruined castles, towers and great houses.
But it's not all about history. The river is colonised by a wide variety of bird life and it is still used by many people for various types of recreation.
Abhainn: An tSiúir introduces us to some of the rivers great characters past and present. We meet "Crimean Bob", a horse that survived the Charge of the Light Brigade and the Battle of Balaklava. Bob was so loved by his masters in Cahir that they buried him under the local Army Barracks after his long retirement from battle had ended.
In Clonmel, Shay Hurley tells us of the unusual history of the local Working Men's Boat Club and its part in the War of Independence, while we also learn of Waterford's unique contribution to Irish cuisine. Not only was the rasher and the cream cracker invented there, but Waterford's Huguenots introduced a new kind of breakfast bread, the Blaa. Today, this centuries old tradition is kept alive by the Walsh brothers in the Déise's capital.
This programme was filmed by the river banks and from every kind of boat. It also features stunning helicopter footage so Abhainn: An tSiúir shows us the River Suir from every possible angle.

Presenter/Reporter: Garry McDonncha
Producer/Director: Seán Ó Mealóid

Programme Two - Abhainn: An Feabhal
In the 2nd programme of a new series of ABHAINN: Cláracha Gaeilge RTÉ takes us on a visually stunning journey revealing the unique personality of the River Foyle.
One of the fastest flowing rivers in Europe and one of Ireland's shortest - only 25 kms long - it sweeps past the walls of Derry / Londonderry and out into Lough Foyle. Just as it marks the divide between Derry and Donegal, between the North and the South, between the City side and the Waterside - The Foyle doesn't have just one source but rather is the offspring of a network of tributary rivers from both sides of the border- the Rivers Finn and Mourne which join at Lifford - it is truly a product of and maybe a symbol of all that is shared by and divides North and South - ABHAINN: An Feabhal
Presenter /Reporter: Bláthnaid Ní Chofaigh
Director & Executive Producer : Kevin Cummins
Programme Three - Abhainn: An Fhéil/River Feale
"I've put many a sliotar into the river. I may play football
with Finuge, but my heart will always be in hurling territory,
south of the river where I grew up in Lixnaw."
Paul Galvin- Footballer & Fashionista
This lyrical programme, the third in the current series on Irish rivers, features the poets, politicians and sports stars of this picturesque corner of Munster whose lives have been influenced by their proximity to the river Feale.
Stunning aerial photography captures the distinctive features of the river landscape as we trace its journey from source to sea; High up in the mountains of north Cork, through the market towns of Abbeyfeale and Listowel, until it reaches the Atlantic near Ballybunion. Featuring the Listowel Writer's Week, we explore the extent to which the river Feale has inspired creativity in writers such as Brendan Kennelly, Gabriel Fitzmaurice and John B. Keane.
"A man is lucky a thousand times over to be born in the vicinity of river water. This is a countryside chock full of beautiful streams and it's here that I come to relax, ponder, fashion, creating and correcting plots."
John B. Keane - Writer
The Feale is one of very few rivers in Ireland where coastal fishermen are still granted licences to use draft nets at the mouth of the river. However, as this practice prevents fish from swimming upstream to spawn, the stocks have become depleted. Once regarded as one of the most outstanding salmon and brown trout rivers in Europe, we hear the concerns of the anglers upstream who rarely see a salmon, let alone catch one.
Reporter : Sinéad Ni Churnáin
Producer/Director Edel O'Brien