Abhainn Series One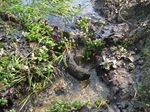 Rivers are more than just a geographical feature in our landscapes - for thousands of years rivers have been part of who we are and what we have become. Rivers have taken on magical, religious, mythical qualities in ancient times. They've been the major transportation routes of old, which opened up the country to newcomers both welcome and unwelcome - they're the motorway network of ancient times. As natural barriers rivers are and have traditionally marked the borders of tribal territories - often fiercely defended. River crossings have been the venue for many a battle. In later centuries the energy of our rivers have been captured by watermills and hydro electric plants but this intrisic life force and energy has always been recognised in ancient Irish cultures for whom the rivers were living goddesses.
In a new series for RTÉ One - Cláracha Gaeilge explore three of our rivers from source to sea. ABHAINN takes us on a journey revealing the unique personality of each river and the stories both ancient and new that tell us who we really are.
Is iad ár n-aibhneacha cuisle na tíre, dár gcothú idir corp agus anam leis na mílte bliain anuas. Sa chianaimsir bhí draíocht agus spioradáltacht ag baint leo. Mór-bhealaí taistil ab ea iad ar feadh i bhfad, agus bhain cairde agus naimhde leas astu chun taisteal go doimhin isteach i dtailte torthúla na hÉireann. Teorainneacha nádúrtha idir threabhanna trodacha a bhí iontu go minic, agus is iomaí cath agus coimhlint a tharla ar a mbruacha. Níos déanaí baineadh leas as a gcumhacht le muilte agus stáisiúin hidrea-leictrachais, ach bhí meas i gcónaí ar bheatha agus ar fhuinneamh na n-aibhneacha, agus adhradh iad mar bhandéithe sna seanlaethanta.
Sa tsraith nua seo i gcóir RTÉ a hAon - taistealaíonn cláracha Gaeilge feadh trí abhainn ó fhoinse go béal, ag léiriú a bpearsantachtaí shainiúla agus ag nochtadh scéalta na n-aibhneacha a mhúnlaigh muid, scéalta a insíonn dúinn cé muid féin.
Episodes
Programme One - Abhainn: An Bhóinn (The Boyne)
The Boyne - inextricably linked with our history and pre-history - a physical time line of human settlement on the island. Along its banks are traces of almost every period going back over 6,000 years. Almost as ancient is the traditional Boyne Coracle or Currach - a leather and wicker craft which was still used for salmon fishing up the early 20th century. Claidbh Ó Gibne who continues the tradition of currach making takes us on a unique voyage down the river in a Boyne Currach interweaving the ancient and new.
The Boyne rises near Carbury Hill - ancient seat of the kings of Leinster and flows through the flat lands of Offaly and Kildare into the rich royal plains of Meath. Monastic & Norman settlements mark the route through the towns of Trim and Navan and onto Slane. Brú na Bóinne -the dramatic bend in the Boyne - a world heritage site where mythology meets archaeology in a heady magical mix. Just before the river flows to the sea through Drogheda - the Battle of the Boyne's resonance echoes the Boyne as the natural border between North and South.
Producer/Director: Kevin Cummins
Presenter/Reporter: Fachtna Ó Drisceoil
Abhainn: An Bhóinn
An Bhóinn - abhainn atá fite fuaite le stair agus réamhstair na hÉireann, agus a bhfuil rianta ár sinsir fós le haimsiú thart timpeall uirthi. Tá iarsmaí ó gach ré stairiúl le 6,000 bliain anuas ar a bruacha. Ach tá traidisiún ársa amháin de chuid na habhann beo fós, a bhuíochas do Chlaidhb Ó Gibne, atá taréis currach traidisiúnta na Bóinne a chur ag snámh arís, báidín ar úsáideadh é i gcóír iascaireacht bradán go dtí tús an fichiú chéad.
Éíríonn an Bhóinn gar do Chnoc Cairbre - ionad ársa ríthe Laighin - agus sruthlaíonn sí trí thalamh leibhéalta Uibh Fháile agus Chill Dara isteach go thailte méithe na Mí. Tá cúrsa na habhann trí Bhaile Átha Troim, An Uaimh agus Sláine breac le fothracha de mhainistreacha agus de chaisleáin Normánacha. Ansin tagann sí go dtí an seoid oidhreachta domhanda ag Brú na Bóinne, áit a bhfuil an seandálaíocht agus an mhiostaseolaíocht fite fuaite lena chéile. Agus leanann an turas trí stair na hÉireann ag ionad chath na Bóinne gar do Dhroichead Átha, áit a léirítear ról na habhann mar theorainn nádútha idir tuaisceart agus deisceart.
Programme Two - Abhainn: An Laoi (The Lee)
An Laoi is a tone poem in praise of the river Lee dreamed up by Pat Butler; a proud Corkonian born within shouting distance of the river. The documentary paints a portrait of the Lee that is different, magical and evocative. We follow the Lee from its origins in Gougane Barra through The Gearagh and Inchigeelagh, out to the Atlantic at Cork Harbour. Music, poetry and stunning visuals are used to evoke a river that is the heart of every Cork person along with everyone in Ireland.
Researched and devised by Pat Butler. Produced by Ferdia MacAnna
Abhainn: An Laoi
Dán físe agus fuaime isea Abhainn: An Laoi, samhlaithe ag Pat Butler, Corcaíoch a fuinneadh is a fascadh ar bhruacha álainn na Laoi. Snaíonn an Laoi i gcónaí trí chuisle agus sícé chuile Corcaíocht, is cuma cioca i gcian nó i gcongar a mairid. Is físdan draíochta é an scannán dúshlánach seo - samhlaítear brí agus beatha nua don abhainn íocónach, abha na gCorcaíoch, i bhfad ar chliathán ón sean-insint leamh comónta.
Leanaimid conar an abhainn óna fhoinse i nGúagán Barra soir go hInse Geimhleach, as sin chuig uiscí foraoiseacha an Ghaorthaidh, tríd an Chathair agus soir arís chun na farraige i gCuan Chorcaí.
Idir cheol, filíocht agus pictiúir, agus cor caractaer a aimsítear ar na bruacha scéalacha sin, ath-shamhlaítear ceann de na habhainn is deise agus is suimiúla in Éirinn.
Pat Butler a scrí agus a shamhlaigh, agus sé Ferdia MacAnna a léirigh.
Programme Three - Abhainn: An tSuca (The Suck)
The River Suck is one of Ireland's least known rivers but this gem is one of the most important rivers in Connacht, stretching along a meandering course from its source at Lough O'Flynn on the Roscommon/Mayo border to where it enters the River Shannon at Shannonbridge in County Offaly.
The Suck is the natural boundary between the counties of Galway and Roscommon and is steeped in archaeology, history and folklore.
Many of Ireland's heroes were born on the Suck - Douglas Hyde, Eamonn Ceannt and Fr Edward Flanagan of Boys Town fame amongst them. The seat of the last High Kings of Connacht, the O'Conors, was situated at Clonalis House on the Suck and a wooden bridge at Derrycahill beside a deserted famine village also gives a real sense of times gone by.
The River has also moved with the times. A modern fishing bay for those with access disability lines a half mile stretch of water near Donamon Castle, the oldest inhabited castle in Ireland. The Ballinasloe-Shannonbridge waterway has also opened in recent years allowing navigation of the final leg of this wonderful river.
Our journey on the River Suck is a refreshing evocation of Irish history and culture, folklore and topography, and the enduring beauty and character of the West of Ireland.