A Rose to India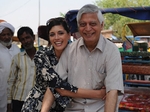 A Rose to India follows the reigning Rose of Tralee, Clare Kambamettu on a voyage of discovery around India.
The trip was especially poignant for Clare who was accompanied by her father Ravi and follows their rediscovery of his birth place and early years in the Indian town of Hyderabad. Ravi who met Clare's mother Breda at the Merlin Park Hospital in Galway 37-years-ago and lives in Athy, Co Kildare, now works as the Naas County Coroner.
The 18-day tour was organised by international development charity VSO, who send volunteers to work long term overseas. While in India Clare was given an insight into the work VSO volunteers engage in across India, including visits to the cities of Hyderabad, Berhampur, and Delhi.
Clare visits the SWECHA charity in Delhi, an enterprising initiative and great example of how the VSO programmes support people to earn their own income and helps people to live healthily. Cameras follow Clare and Ravi on their journey through the dumps, markets and tailors' workshops and show the transformation of car tyres and waste fabrics into beautifully crafted handbags and purses which are then sold at Delhi's upmarket shopping centres.
A Rose to India highlights the contrasting views of life in India and Ravi, who was brought up in relative comfort in Hyderabad, sees the scale of poverty in India firsthand. The documentary follows the development of Ravi and Clare's personal relationship and their relationship with India.
Directed by Rossa Ó Sioradáin the 52 minute documentary, funded by the BAI (as part of the Sound and Vision programme fund) and RTÉ, follows the 2010 Rose Clare Kambamettu across India.
RTÉ One, Tuesday, 10.40pm