Programm 5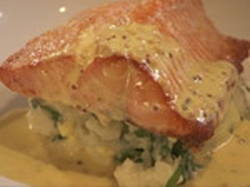 Fish Chef Martin Shanahan is cooking up a fishy surprise in County Carlow.
He meets fish shy Elaine on a morning radio show. He vows to get Elaine to eat fish.
Bringing her to Kinsale Martin sets out converting Elaine to fish.
He cooks a number of fish types for Elaine and along the way gives tips and advice on cooking simple fish dishes.
He surprises Elaine's family at a dinner party.
On this show he cooks his signature dish crab crumble and one of his favourite - warm chilli seafood salad.