Programme 1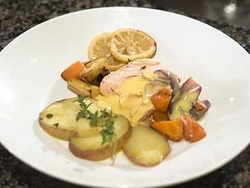 In this show Martin goes to Thurles and gives advice to the Daly family who own a fish shop.
They want to increase their sales mid week.
He cooks for the Mulcaire family in Thurles and shows mum Elaine a quick and easy family dish using shop bought chowder as the sauce base.
Martin also reinvents the Sunday roast, slow cooking a whole salmon for the family in a roasting bag.
And for the more adventurous palates Martin introduces a new fish dish using megrim.