About the Show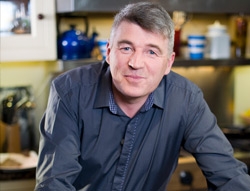 Make Everyday a Fish Day
Chef Martin Shanahan is back on TV with a new mission - 'why just have fish on Friday when you can have it everyday unless, that is, you live in the midlands of Ireland'.
Martin is determined to bring the fish revolution to every midland town of Ireland. Watch out Thurles. Carlow . Roscommon, Martin is on his way..
in his new series Martin's Still Mad About Fish, Martin travels around Ireland bringing his seafood delights to non coastal towns like Thurles and Carlow, helping local businesses and getting meat loving - fish hating consumers to eat fish - and he's getting results!
Martin also visits coastal towns, bringing the once popular indigenous shell fish back to the urban streets, like cockles and mussels in Dublin, oysters in Galway and periwinkles in Clare. During his journey Martin will share the secrets of his recipes and in doing so he hopes to inspire the country to eat more fish cooking simple and inspirational dishes.
Martin's catchphrase 'No Skin, No Bone, No fear' has taken the mystery out of cooking fish. Martin's aim is to make every day a Fish Day in Ireland.
Martin says "Fish is not just for Friday, if we can import coffee and have it all over the country in days then why can't we import more fish inland? I'd like to see more people eating fish mid week. And trying out new fish types too - there is a fish in the sea for everyone"
In this series Martin continues to have a vision, which he believes in with almost a religious zeal; to convert the fish shy Irish over to the joys of eating the most healthy and tasty food in the world. Martin wants to wean the population off beef and chicken and onto fish - he wants Irish people to feel the same way about fish as they do about beef and Martin introduces a new fish to our table - Megrim often thought of as a Spanish fish - rarely eaten here in Ireland. It's 7th most caught fish by Irelands fishing fleet, most of which is exported. In show 3 martin follows Irish hake to Spain, and gets fed a home cooked Irish fish in Barcelona.
The Irish fish industry employs over 12,000 people and is worth over €700 million - it produces over 270,000 tonnes of seafood per annum! The export market is accepted to be of prime importance to Ireland's economic recovery. Ireland's seafood exports have continued to grow to a value of €333 million.
Martin's Still Mad About fish is and RTÉ Cork Production.