The Late Late Show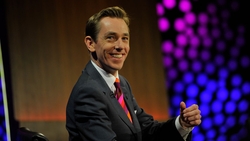 Congratulations to John Morris from Co. Wexford. John has won a 5-night trip to Toronto and CAD$10,000 to spend. Well done John.
Ryan Tubridy
This is the year I hope to make the show my own. With two seasons under my belt, I'm looking forward to getting the show on the road.
There's plenty of great prizes up for grabs throughout the season. Check out our Competition section for more details...
The Late Late Show is Ireland's most popular and prestigious television show and is the longest running chat show in the world.