Donal's Irish Feast : Donegal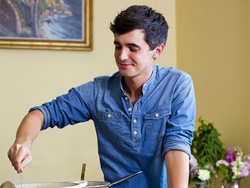 Donal heads to Lifford and visits Donegal Rapeseed Oil and chats to Austin Duignan about the success of the company's cold pressed rapeseed oil including a range infused with various flavours such as garlic, chili, and lemon.
He also visits Kinnegar Brewery - a farmhouse brewery producing Pale ale, Amber ale, India pale ale, Rye ale and Porter, and Steve Cullen Oysters.
Donal then makes a delicious feast in Rathmullen House, including delicious Bloody Mary Oyster Shooters with Raw Oysters and a Shallot Mignonette, Beer Batter Fish Tacos with Cherry Tomato Salsa; and Carrot & Courgette Cake with Rosemary & Orange Crème Fraiche .
Click here for recipes for Kitchen Hero: Donal's Irish Feast.....