This Week - 30 March 2008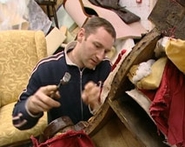 Cork Deaf Enterprises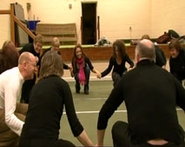 Spirit of Sign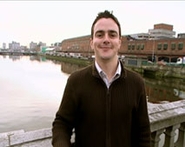 Sean
Tune in this Sunday at 10:45 for another great episode of Hands On! This week Hands On comes to you from Cork, as Sarah Jane and Sean leave Dublin behind to see what Cork's 500 strong Deaf community are up to. Sarah Jane the Deaf Drama Group 'Spirit of Sign', Sean calls into Cork Deaf Enterprises who celebrate their 21st anniversary this year, and he also gets to go back to visit his old school in Douglas. Then it's back to Dublin for news with Senan and a great new Molly & Mr. Milk!
Spirit of Sign
Spirit of Sign is an Deaf Drama group based in Cork that was established in 2006. They already have a theatre performance and 3 short films under their belt and we catch up with them as their busy in rehearsals for their new production 'Down through the years' which is being performedin Cork's Granary Theatre from May 21st for 4 nights. We meet Robert Quinlan the groups Co-ordinator, Director Donal Gallagher and group member Angela Dennehy who tell us all about it.
We have 2 tickets to give away for the production, all you have to do is answer this question:
Where is Spirit of Sign based?
You can enter by texting your answer to 086 173 6131 or email it to handson@mindthegapfilms.com

Cork Deaf Enterprises
Cork Deaf Enterprises which has been providing training and employment to Cork's Deaf community for the last 21 years, and has changed a lot since it was founded back then by Fr. Bill Clarke. It was set up to tackle the high rates of unemployment among Cork's Deaf community but has been involved in many different schemes through its history. We call in and meet long time staff member Tommy O'Neill and manager Liam McGrath to see more of what they do, why the number of Deaf people working there is in decline, and find out what plans they have for their future.

Our Lady's School for Hearing Impaired
Sean takes a trip back to his old school in Douglas, formerly Our Lady's School for Hearing Impaired Children, it has been renamed St Columba's National School with facility for Deaf children. We meet Sr Pauline Casey who was instrumental in setting up the school and she fills us in on the school's history and their new policy of amalgamation with mainstream classes. We also meet Mary O'Connor a special needs assistant who has been teaching ISL to the schools hearing children.
News with Senan
NAD / Deafhear
This week's Deaf News comes to you from Deafhear which is the new name for the National Association of Deaf People (NAD)!

The name was changed to coincide with the changes that the organisation has seen in the 45 years since it was set up in 1963 to serve the needs of Deaf people. But today of the 30,000 + members using NAD services, 85% are 'hard of hearing'.
In 2006, NAD undertook a strategic review to refine its vision, mission and values. We meet Sandra O'Brien to find out more.

Signal
Four students from the National University of Ireland at Maynooth have developed a sign language teaching system known as Signal. This project was the winning entry at the Irish final of the Microsoft Imagine Cup competition 2007. The team devised an avatar system to teach sign language to teachers and lecturers. More information about Signal can be found on their website - www.signal.ie

IDSA 40
Now a date for your diaries! The IDSA is 40 years old this year and they're having a Gala Dinner to celebrate in September. Hands On is also joining in the celebrations, we have a full programme devoted to Deaf Sports at the end of the series! So tune in then!
Molly & Mr Milk
We have a great new Molly and Mr. Milk, who continue their search for the letters stolen by the moon! This week they visit a sweet factory and greedy Mr Milk stuffs his face with chocolate! To win a jigsaw this week draw a picture of your favourite food and send it to:
Hands On
6 Wilton Place,
Dublin 2