The Best of Hands On Programme 4.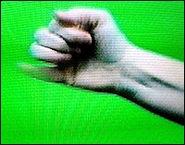 Sexual Awareness
We report on the latest research from the crisis pregnancy agency, which reveals some shocking data about the sexual knowledge of Irish adults, and meets with CEO Sharon Foley, to discuss the results. We also meet Niall Beehan from the Irish Family planning association who talks about the level of sexual awareness of his clients and the need for more explicit sex education classes in schools.
Bohemian Rhapsody
We have an amazing performance from the Dublin Deaf Drama group of Queens, Bohemian Rhapsody, in Irish Sign Language.
Cervical Cancer
We have a unique interview with Mary-Anne White after she was diagnosed with cervical cancer; Mary-Anne talks openly and graphically about her condition and how it affects her. Finishing the interview she urges women to have smear tests saying she never did. Three days later, Mary-Anne White passed away.
Molly & Mr Milk (H)
This week our two explorers travel to the land of H where Molly and Mr Milk play on a farm.