This Week - 29 March 2009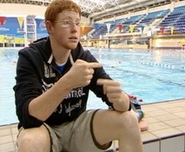 Vincent McArdle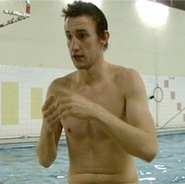 Eoin Nolan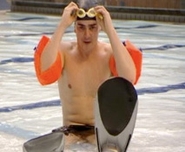 Sean Herlihy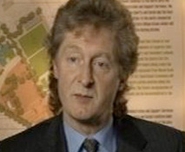 Liam O'Dwyer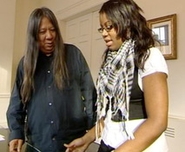 John Rocha with Lydia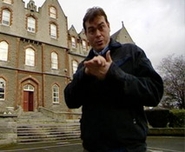 Senan Dunne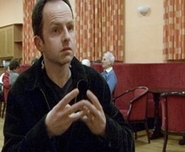 John Cradden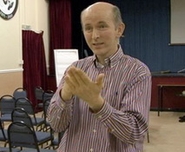 Fergus Dunne
This Sunday we take a look at some of the most exciting events happening in the Deaf community right now! Seán meets some Deaflympic hopefuls who are training hard in the hope that they will represent Ireland at the Deaflympic Summer Games this September in Taipei. Senan meets Liam O'Dwyer, CEO of CIDP to find out the finalised plans for the Deaf Village in Cabra. In our final Dream Job item, one lucky student from St. Mary's dream comes true when she gets a chance to work with internationally renowned fashion designer John Rocha! Don't forget Molly and Mr Milk will be here for our younger viewers.
Deaflypmics
This September, the largest number of Irish Deaf athletes in history, will be completing the 21st Deaflympic Summer Games in Taipei, Taiwan in four different sports: Football, Waterpolo, Swimming and Badminton. We meet some of the players hoping to get picked to represent Ireland. In Football, FAI coach Jamie Wilson explains his "winning formula", and four-time Deaflympic player, and team captain, Darren Dunne tells why he thinks the team are better than ever before! John Kelly, Badminton Director, introduces us to two girls showing plenty of promise, Laura Burns and Amy Mc Millan; Deaflympic first-timer Vincent Mc Ardle is training hard to compete in the Swimming events and the Waterpolo team tell us they're hungry for Gold!
www.irishdeafsports.net
www.deaflympics.com
www.ciss.org
http://english.2009deaflympics.org/bin/home.php
For information on the sport games/dates
http://english.2009deaflympics.org/files/13-1027-875.php
Deaf Village
As the Drumcondra Deaf Club is in set to be demolished to make way for the new metro, the Catholic Institute for Deaf People, CIDP have proposed something new and radically different.a Deaf community village. Liam O'Dwyer, CEO of CIDP announces the final plan on Hands On stating that the village, to be built on St. Josephs Grounds in Cabra, will house St Mary's and St Joseph's schools amalgamated with residential accommodation and St. Josephs House for adult Deaf and Deafblind, a lifelong educational centre, sports and social facilities including the long waited sports hall, brand new swimming pool, cafeteria and much more. They have also invited a number of Deaf organisations such as IDS, IDSA, IDYA, DeafHear and SLIS to base themselves in the Deaf Village.
We ask members of the Deaf Community and Deaf organisations how they feel about the proposed Village. While some view it as a great opportunity for Deaf people young and old to mix, meaning Deaf youth having access to Deaf role models, others such as Greenbow, the LGBT organisation, explain their concerns that the Village may have a Catholic ethos that would clash with the views of their organisation. Concerns about the ghettoisation of the Deaf Community are raised as are worries about the proposed sale of land in Cabra and the preservation of Deaf history. Finally, IDS chairperson Carmel Grehan explains why the IDS and their members have concerns about moving to the new Deaf Village. The Deaf Village proposes lots of interesting questions and opposing views but is undoubtedly one of the most significant moves in the Deaf community in may years. Don't miss this important prog.
www.cidp.ie
www.irishdeafsociety.ie
www.greenbowdeaf.com
http://irishdeafwomengroup.weebly.com/index.html
Dream Job
Excited schoolgirl Lydia Mendes couldn't contain herself when she met Sarah Jane before her Dream Job day, dying to find out who the mystery guest is who's going to tell her everything she needs to know to be a fashion designer! She gets a lot more than she bargained for when SJ reveals it's none other than one of her own fashion heroes John Rocha!
After she calms down - slightly! - Lydia meets the staff at his design studio who show her all the textiles/materials used to make a John Rocha original. She evens gets to show her own designs to the man himself, who gives her some advice on how to display her collection and how to achieve her dream. Make way for our future Deaf designer!

www.johnrocha.ie
Molly and Mr Milk
This is the end of this series of Molly and Mr Milk so grab your chance to win €50 to spend on new toys! Molly and Mr Milk continue their search for the letters stolen by the moon! Shauna and Phillip wail at the thought it's last in series but brighten up with a new idea!
To win a jigsaw and 50e, draw a picture of a Molly and Mr Milk adventure and send it to:
Hands On
6 Wilton Place
Dublin 2