The Best of Hands On Programme 6.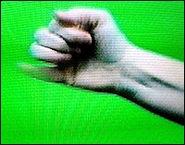 Alzheimers
Presenter Eddie Redmond gives us his personal experience after his mother was diagnosed with Alzheimers along with Carmel Grehen who's father died shortly after his diagnosis.

What I want to be when I grow up
Back in 1996, Hands On filmed a group of school children and scouts, asking them what they wanted to be when they grew up. Now they're back and Eddie finds out how life is going for them.
Interpreters
With the Centre for Deaf Studies now in its fourth year we take a look at the interpreters. Julianne Gillen talks to representatives from Irish Association of Sign Language Interpreters, National Association of the Deaf, Centre for Deaf Studies and the Irish Deaf Society as well as members of the Deaf community to find out what the issues are now and how they are being dealt with.
Molly and Mr Milk (J)
Molly and Mr. Milk, Hands On's animated series for children, is back with a brand new advenures as they continue their travels in letter land. This week our two explorers travel to the land of I, where Molly makes a new friend.