Best of Hands On 2 - 26 April 2009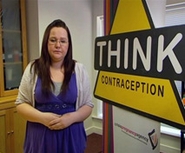 Caroline McGrotty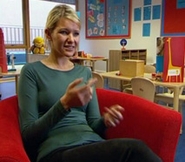 Yvonne Walsh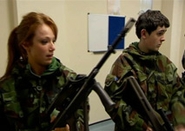 SJ & Simon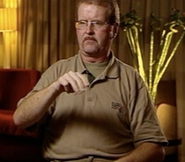 John Doyle
Don't miss this Sunday's Best Of Hands On! Tune in at 10.40am on RTÉ One for another chance to see Caroline Mc Grotty's report about teen pregnancy. John Doyle tells us about giving up his free time to travel to South Africa and work with the Niall Mellon Trust and lucky student, Simon, tries out his dream job of being in the army and for the kids we have Molly and Mr Milk again!
Teen Pregnancy
Did you know that every year in Ireland, approximately 2,500 women under 20 become pregnant and it is thought that 80% of those pregnancies were unplanned. Caroline McGrotty brings a report on young mothers and sexual health. She meets young Deaf mothers Yvonne Walshe and Fiona Galvin to talk about their experience.
www.crisispregnancy.ie
www.thinkcontraception.ie
Dream Job
We give another lucky student a chance to do their dream job for the day and it's Simon Mc Dougal from St. Joseph's school! Get ready for this action packed item as we see Simon marching into the army! He tells us why he wants to join the army and what fascinates him about it. We get to see him challenge our presenter Sarah Jane during military training! Simon asks Captain Pat O Connor what day-to-day life is like in the army and why Deaf people are excluded from joining. Will Army-life be too much for Simon?
http://www.military.ie/
Niall Mellon Trust
The Niall Mellon Township Trust was established in 2002 with the aim of providing good quality housing for the poor communities in the townships of South Africa by bringing 2000 volunteers over there for a week -long "building Blitz" to provide homes for people living in shacks. John P Doyle is a Deaf man about to make his 5th trip to South Africa with the Niall Mellon Trust. He tells us what made him want to get involved - and what makes him keep going back! We get a chance to see some video and photos of his time there and ask him about the most challenging part of the experience.
http://www.irishtownship.com/index.html
Molly & Mr Milk
To win a jigsaw this week, send us your drawing of a Moon.
Send your pictures to: Hands On, 6 Wilton Place, Dublin 2.
Don't miss it and tune in for next Sundays Best of Hands On!