This Week - Sunday 26th March 2006.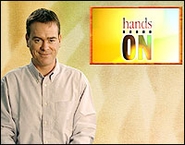 This week on Hands On, we have a video diary from 15 year old twins Cameron and Wesley Ward; Eddie Redmond interviews members of Greenbow, the Deaf Gay, Lesbian, Bisexual and Transgender Society of Ireland, as the society celebrates its ten year anniversary; and two more of our health and fitness volunteers, Melissa and Anna Louise, tell us through video diaries how they are coping with their health and fitness programmes.
Twins
Cameron and Wesley Ward are 15 years old twins who are pupils at St. Joseph's School for the Deaf. They took a camera for a week to show us what their lives are like since moving to Ireland from the US.
Greenbow
At Outhouse on Capel St, Eddie met with Greenbow Chairperson, John Fennell, Greenbow Secretary, Dominic McGreal, and a new member of the society, Terry Cullen, to discuss why Greenbow was set up, what services it provides for the Deaf gay and lesbian community and how the society plans to celebrate its ten year anniversary.
Health and Fitness
We have Video Diaries from Anna-Louise Mac Allister and Melissa Howlett, two of our Health and Fitness volunteers. They tell us why they started the programme to begin with and whether or not they'll stick with it after Hands On is finished. They also talk about the reaction they've received from the Deaf community and the hardest part of the programme for them.
News with Senan
Deaf get on-screen help to communicate in surgeries
Deaf people in the UK are to be given help to communicate in GP surgeries. SignHealth, a computer program allows a GP to choose from a list of questions on the computer screen. The computer then shows a video clip of someone signing the question and the Deaf patient can answer by selecting from a list of on-screen answers.
SignHealth offers health care professionals and patients an option to choose from 12 foreign languages.
It also enables GPs and receptionists to send appointment reminders to Deaf people by SMS text messages, helping to avoid the difficulty they experience when contacting a surgery to book an appointment.
www.signhealth.com
Deaf Pilot Earns Instrument Rating
In Ohio in the US a Deaf man has become the first Deaf pilot to get his FAA instrument rating, flying a Cessna 172.
Since instrument pilots must be able to communicate on the radio, the co-pilot listens and then transmits the information to the Deaf pilot using signs and writing on a quick-erase board. The pilot Stephen Hopson now plans to get a multi engine rating, and then fly jets!!!
http://www.avweb.com/newswire/12_09a/briefs/191666-1.html?CMP=OTC-RSS
Irish Footballer wins award
Congratulations to Joseph Watson who won an award at the Football Association of Ireland's awards. Joseph was honoured under the category "football for all" for his remarkable career in Irish Deaf Sports. Nominated by the Irish Deaf Sports Association, Joseph has played with Waterford United and currently plays with Waterford Crystal. Joseph has earned 31 caps for the Irish Deaf team and scored 36 goals.
www.irishdeafsports.com
http://home.eircom.net/javascript/GoalCompetition/nominees_2005.jsp

About the House wants your opinion
Duncan Stewart from "About the house" is looking for views from the Deaf community about how to make the programme more accessible to the Deaf community. They want to know if the subtitles are good enough and if signing would add to your enjoyment of the programme - check out the website below for details:
http://www.enablesoft-ebusiness.net/nadp/asp/section.asp?s=222
http://www.rte.ie/tv/aboutthehouse/
Irish Sign Link's new online booking system
Now you can book interpreters online. Sign Link has set up a new online booking system. You can still book by E-Mail, Fax, and Minicom and by Telephone. You can also find the nearest interpreters in your area.
http://www.irishsignlink.ie/
ISL Parade
As part of Irish Sign Language awareness week, the Irish Deaf Society has organized an ISL Awareness Parade. The Parade will begin next Sunday at 2pm at the Garden of Remembrance. Last year's parade was a great success and the IDS hope to have an even bigger turn out this year. So go on - join the march and promote and support your language!
Check out this website for pictures from last year's parade:
http://www.idyablog.com/blogs/idya/blog.nsf/albums/SWHN-6DYQLK
DVD Competition
This week our DVD competition will win you a copy of
"Everything is illuminated" starring Elijah Wood; the question is:
In which famous trilogy did Elijah Wood feature?
Text your answer to 086 173 6131 or Email your answer to handson@mindthegapfilms.com
SMS messages are charged at your usual network rate.
The winners will be picked at random and announced on the show. Remember you must include your name and age. Good luck!

Congratulations to the winners of our Molly and Mr. Milk drawing competition!
Anna Giglione, Age 6, Co. Kildare
Sarah Giglione, Age 5, Co. Kildare
Áine Cashin, Age 8, Co. Wexford
Grace Kelly, Age 6, Co. Wexford
Róisín Kavanagh, Age 9, Co. Louth
Christine Farrelly, Age 8, Co. Meath
Gillian Farrelly, Age 4, Co. Meath
Molly and Mr. Milk T-shirts are on the way to all of you!
Molly and Mr. Milk. (Letter X)
This week Molly and Mr. Milk have another adventure in the land of X. They find a treasure map and dig up a Xylophone!
CONTACTS
Greenbow
http://www.greenbowdeaf.com/
Outhouse,
105 Capel Street,
Dublin 1
Tel: +353 1 873 4932
Fax: +353 1 865 0090
Text: +353 86 367 1375
Email: deafgreenbowlgbt@yahoo.ie
Outhouse
http://www.outhouse.ie/
Outhouse
105 Capel Street,
Dublin 1
Tel: 01 873 4932
Fax: 01 865 0090
Text: 087 760 2571
Email: info@outhouse.ie
Irish Deaf Society (IDS)
www.irishdeafsociety.ie
30 Blessington Street,
Dublin 7
Minicom: 00353 1 860 1910
Fax: 00353 1 860 1960
Tel: 00353 1 860 1878
Irish Sign Link
www.irishsignlink.ie
25 Clyde Road,
Ballsbridge,
Dublin 2
Tel/Minicom: 01 608 0437
Fax: 01 668 5029
Email: signlink@indigo.ie
Warner Brothers
www.warnerbros.com