This Week - Sunday 26th February 2006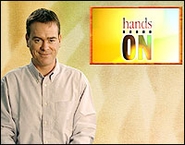 This week on Hands On we catch up with Julianne, Wendy and Sarah who tell us how they're getting on with their health and fitness programmes. Eddie meets Gary Norman, audiologist at the Cochlear Implant Department in Beaumont Hospital, a Deaf family who's daughter has been through the Cochlear Implant programme and a Deaf man who became Deaf as a teenageer and believes an implant will improve his quality of life. We also have Senan with the news and Molly and Mr. Milk finally reach the land of Z!
Health and Fitness
This week we have video diaries from three of our Health and Fitness volunteers, Julianne, Wendy and Sarah. They show us some of the changes they have made in order to lose weight and get healthy and tell us about the challenges they've faced along the way.
Cochlear Implants
It has been five years since Hands On has addressed the subject of cochlear implants. When we returned to the subject this year we found that there have been a lot of changes and that more Deaf people were willing to talk positively about cochlear implants. Eddie met with Gary Norman, an audiologist at the Cochlear Implant Department in Beaumont Hospital, who tells us exactly what a cochlear implant is, and what it does, and the potential risks of the operation. Eddie also met with Deborah Ennis and Peter McLoughlin, Deaf parents whose daughter Leah has gone through the Cochlear Implant programme. They tell us about making the difficult decision to have Leah implanted and the reaction they received from the Deaf community. Finally Eddie meets with Philip Quearney, who became Deaf as a young man and believes a cochlear implant will improve his quality of life.
Hands On would like to return to the issue of cochlear implants before the end of the series. If you have a different opinion on cochlear implants than those expressed in this programme, or would like to express any opinion on the topic, please contact us to share your views.
Email: handson@mindthegapfilms.com
SMS: 086 1736131
Fax: 01 6624758
Tel: 01 6624742
News with Senan
Irish Graduate Fair aimed at graduates and students with disabilities
The Willing Able and Mentoring project (WAM) is holding a graduate fair in the Mansion House in Dublin, next Tuesday. Graduates and students will have the opportunity to meet with employers who will be offering 6-month job placements to graduates with disabilities.
For more information, email: ahead@ahead.ie
http://www.aheadweb.org/home/pages/show/30
http://www.activelink.ie/ce/active.php?id=3238
Millions for research into hearing loss
The European Union is giving high priority to hearing loss research with grants of €12.5 million for the Eurohear project.
The five-year research project will study the development and function of the inner ear and identify the molecular defects underlying hereditary hearing impairment. Twenty-two academic institutions from ten different countries are working on the project, bringing together 250 scientists from around the world.
http://www.eurohear.org/
Access to maternity care
Emily Steinberg, this year's Deaf Studies Fulbright scholar is working on a research project about Deaf mothers and their access to maternity care in Ireland. The goal of the project is to document the common experiences of Irish Deaf mothers.
When complete, the results will be given to the Deaf community and to the maternity hospitals, to raise their awareness of the needs of Deaf mothers. Emily is currently interviewing in the Dublin area. If you are a Deaf mother and have been pregnant within the past 10 to 15 years, Emily would like to talk to you about your experience. If you're interested, contact the CDS (see below for contact details).
http://www.fulbright.ie/us_awards_profile_of_awardees.php?nme=emily_steinberg
http://pr.gallaudet.edu/otg/BackIssues.asp?ID=5553
DVD Competition
This week we have copies of "Must Love Dogs" and "The Sisterhood of the Traveling Pants" courtesy of Warner Brothers. The question is:
Which is Christopher Plummer's most famous role?
Text your answer to 086 173 6131
or Email your answer to handson@mindthegapfilms.com
SMS messages are charged at your usual network rate.
The winners will be picked at random and announced on the show. Remember you must include your name and age. Good Luck!
Congratulations to the winners of our Molly and Mr. Milk drawing competition:
Fiona Landers from Co. Cork
Marie Fitzpatrick from Ballyfermot
Stephanie Mockler from Drimnagh
T-Shirts are on the way to you!
Molly and Mr. Milk. (Letter Z)
Molly and Mr. Milk have finally reached the last letter of the alphabet when they arrive in the land of Z! This week our heroes visit the zoo where they meet some old friends and have a run-in with the zookeeper!
To win a Molly and Mr. Milk T-shirt this week, all you have to do is draw a picture of a zebra and send it, with your name, address and age, to:
Hands On
6 Wilton Place
Dublin 2.
CONTACTS
Cochlear Implant Department
www.beaumont.ie/depts/
Beaumont Hospital
P.O. Box 1297
Beaumont Road
Dublin 9
Ireland
Tel: 01 8092191
Fax: 01 8092753
Email: cochlear@indigo.ie
Irish Health.com Cochlear Implant Information
www.irishhealth.com/?level=4&con=457
AHEAD (Association of Higher Education Access and Disability)
www.aheadweb.org
Tel: 01-7164396
Email: ahead@ahead.ie
Centre for Deaf Studies
http://www.tcd.ie/Deaf_Studies/
1st Floor,
40 Lower Drumcondra Road,
Dublin 9
Tel: 01 8301252
Fax: 01 8301211
Email: cdsinfo@tcd.ie
Warner Brothers
www.warnerbros.com