Hands On! - 27 Jan 2013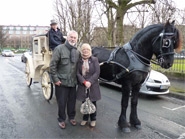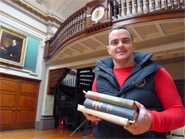 Hands On, Saturday, 26th January, 12:30pm - RTÉ One
Click here to watch this week's promo.
On this week's programme we're feeling all romantic! We catch up with a Deaf couple who will soon be celebrating a special anniversary. They share the stories of how they met and fell in love all those years ago!
Also, tune in to hear the fascinating story of Dublin doctor James Hanlon who became deaf and blind in the 1950's at the height of his medical career. His daughter tells us how he continued to practice medicine and led a fascinating life. An inspiration to all he was an excellent sportsman and a devoted family man. This is a story you don't want to miss!
For our final Take 5 of the series Eddie Redmond catches up with Tessa Padden. Tessa is a Deaf media professional from the UK and she grew up with the expat Irish Deaf community in London. She talks to Eddie about her new venture Sign World and also about the time she spent in Malawi, Africa!

Hands On would like to thank:
Royal College of Surgeons Ireland http://www.rcsi.ie/
The Dylan Hotel http://www.dylan.ie/
Clarkes Carriages http://www.clarkescarriages.com
Cumiskeys, Blackhorse Avenue - ph: 01-838 1609
Royal Society of Antiquaries http://www.rsai.ie/
The Office of Public Works http://www.opw.ie/en/
The Ormond Wine Bar http://www.facebook.com/pages/The-Ormond-Wine-Bar/181985853298