Hands On! - 25 Nov 2012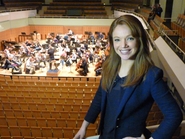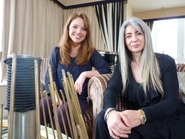 Hands On, 25th November at 12.10pm on RTÉ One
There's a common assumption that if you're Deaf, you can't access or enjoy music or that you can only enjoy music by 'feeling the vibrations'. But is this really the case? In this week's programme our reporter Sarah Jane Moloney takes us on a personal journey as she explores the many different ways Deaf people experience music.
We get an insight into how Sarah Jane's passion for music has developed over the years to become a big part of her life today as she revisits the people and places responsible for her early introduction to rhythm and songs. Sarah Jane listens to music with her residual hearing - but there are loads of other ways music can be enjoyed and Sarah Jane is encouraged to explore these with, among others, world famous Deaf percussionist Dame Evelyn Glennie who recently performed at the London Olympic Games Opening Ceremony.
Join us this Sunday on Hands On as Sarah Jane explores a world of possibilities and meets some fascinating people. You don't want to miss it!
Check out our ISL promo here!
Keep in touch via our Facebook page https://www.facebook.com/HandsOnDeafTV and on Twitter: @handsontv.
Hands On would like to thank
Residence Members Club - 41 St. Stephen's Green, Dublin 2 - http://www.residence.ie/
Windmall Lane Recording Studios - 20 Ringsend Road, Dublin 4 - http://www.windmilllanerecording.com/
The Grand Hotel Malahide - Grove Road, Malahide, Co. Dublin - http://www.thegrand.ie/
RTÉ National Symphony Orchestra - http://www.rte.ie/orchestras/nationalsymphonyorchestra/
National Concert Hall - Earlsfort Terrace, Dublin 2 - https://www.nch.ie/online/
Post Primary Music Teachers Association (PPMTA) - http://www.ppmta.ie
St. Mary's School - Dominican Convent, Cabra, Dublin 7 - http://www.stmarysdeafgirls.ie/