This week - 25th May 2008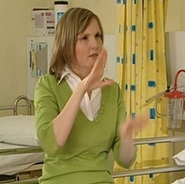 Mary Stringer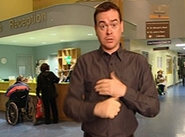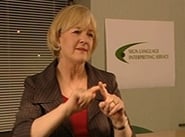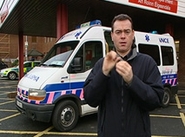 Click here to watch previous episodes...
Short Film Competition
Don't forget to click here for details on how to enter our Short Film Competition...

Tune in this Sunday for another great Best Of Hands On. This series we made two programmes about how the Deaf community are being denied their basic right to fully access the health services, particularly hospitals. For today's Best Of we've combined both programmes into one, the stories are still just as shocking.
We look at how Deaf people are being denied access to the most basic public services, the most worrying of these being the health services - including hospitals.
The main reason for this is a lack of awareness among the health services and the Deaf community about their right to access services through Irish Sign Language Interpreters. A right that is enshrined in the Disability Act and Equal Status Act.
We meet Deaf people who tell us about the difficulties they face every time they visit the hospital, and even more dangerously when they find themselves in emergency situations. We meet children of Deaf people who have been left with no option but to interpret for their parents at a time of much stress to themselves and in areas they are not qualified in.
As well a reluctance on the part of many hospitals to provide qualified interpreters, or the use of inappropriate alternatives, we discover that SLIS, the government funded interpreter agency, is not providing a national 24 hour emergency service - we ask them why.
As the Health Service Executive launch the Intercultural Health Strategy, which aims to improve access to the health services and interpreter provision for immigrants whose first language is not English, we ask why the Deaf community where not included in the scope of this strategy.
We look at the shortage of Interpreters in Ireland. We currently have less than 50 ISL/English Interpreters, of which only 13 are registered to work in medical or legal situations. This compares poorly to a country like Finland, who have a similar Deaf population but where there are 630 registered Interpreters. We meet Lorraine Leeson, director of Trinity College's Centre for Deaf Studies and Anne Coogan from the national Sign Language Interpreting Service (SLIS) to ask what is being done about the shortage.
We also meet members of the Deaf community and health professionals to ask about their views and experiences, among them, Teresa Lynch, who tells of her experience with the US maternity services and her subsequent campaign for improved access to maternity services here. Eddie Redmond has a frightening story about being admitted to hospital for a simple finger surgery and how a communication breakdown meant he almost had a triple bypass instead. Mary Stringer, a hearing child of Deaf parents tells us how interpreting for her critically ill father as a teenager led to an extremely dangerous situation and Professor Arnie Hill from Beaumount Hospital also expresses his views on treating Deaf patients without an interpreter.
Finally Niall Crowley from the Equailty Autrority explains how you should and can go about making a complaint if you feel a service provider has not fufilled their obligations under the Equal Status Act.
Don't miss all this vital information on Hands On this Sunday at 10.45am on RTÉ One!