Sunday, 24th October 2004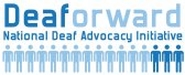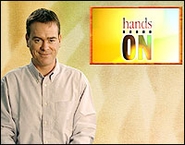 Tune in this week as Alvean visits The Irish Blood Transfusion Service Board, Julianne looks at the recently published Disability Bill, we meet David Breslin in "Chatting with Teresa" and Molly and Mr. Milk travel to Letter Land. First the news headlines:

A new DVD-ROM in the UK is giving Deaf people access to IT training in British Sign Language (BSL) or Irish Sign Language (ISL). "Sign IT" enables users to learn key IT terms and concepts through video tutorials. Click below to find out more.
http://www.rnid.org.uk/html/news/archive/it_dvd.htm
The Northern Ireland BDA have launched the 'Baby Talk' project which will provide Deaf parents with parental information in sign language and provide information to hearing parents of Deaf children
http://irishdeaf.com/news.php?subaction=showfull&id=1094160985&archive=&start_from=&ucat=1&
Scientists in Nicaragua have confirmed the birth of a new language invented by Deaf children at a Managuan school.
http://www.telegraph.co.uk/news/main.jhtml?xml=/news/2004/09/17/wdeaf17.xml=/portal/2004/09/17/ixportal.html
In Israel the development of the SpeechView phone allows lip-readers to have virtual face to face calls. The phone translates words and displays onto the screen with a computer animated face.
http://www.speechview.com/source/contactus.aspx?lan=en-US
Lastly, Ceefax celebrates its 30th anniversary this month. The service was launched in 1974 and is used by more that 20 million viewers in the UK. When analogue TV becomes digital in the year 2012, Ceefax will cease to exist.
http://www.taipeitimes.com/News/biz/archives/2004/09/26/2003204443

Irish Blood Transfusion Service Board
Alvean Joins visits a blood donor clinic and finds out exactly who is eligible to donate blood and the procedure that you go through as well donating some blood herself.
Deaforward
Julianne Gillen focuses on the recently published Disability Bill and explains the seven parts of the Bill. We also hear what IDS Project Development Manager Kevin Stanley and MEP Kathy Sinnott think of the Bill.
Chatting with Teresa
This week Teresa Lynch welcomes David Breslin well known Deaf art collector and researcher. David talks about his upbringing in Navan, his time at St. Vincent's school in Glasgow and how he became involved with the National Gallery of Ireland.
Molly and Mr Milk -J
In this week's brand new adventure Molly and Mr Milk learn some words beginning with the letter J. To win a T-shirt this week all you have to do is draw a picture of Molly and Mr Milk and send it to Hands On, 22A Fortescue Lane, Rathmines, Dublin 6.
CONTACTS

BDA 'Baby Talk' project
http://www.britishdeafassociation.org.uk/ukwide/index.php?page=Northern%20Ireland#baby
British Deaf Association
Address: Suite 3, 611b Lisburn Road, Belfast, Antrim, Ireland
Fax: 004428 9038 7707
Tel: 004428 9038 7700
Email: janety@bda.org.uk.
Website: http://www.britishdeafassociation.org.uk/
Nicaraguan Sign Language Projects, Inc.
Address: 52 Whitney Farms Road, North Yarmouth, ME 04097 Maine, USA
Tel/Text phone: 001207 846-8801
Fax: 001207 846-8688
Email: nslp@maine.rr.com
Website: http://www.unet.maine.edu/courses/NSLP/index.html
SpeechView phone
Address: 14 Moshe Dayan St.
Kiryat Arieh
P.O. Box 3325
Petach Tikva
49130 Israel
Tel: 00972 3 921 77 10
Fax: 00972 3 921 77 27
Email: info@svu.co.il
Website: http://www.speechview.com/source/contactus.aspx?lan=en-US
Deaforward
Address: Irish Deaf Society, 30 Blessington St, Dublin 7
SMS: 086 384 7023
Tel/SMS: (01) 860 1987
Fax: (01) 860 1986
Email: info@deaforward.ie
Website: www,deaforward.ie
Irish Blood Transfusion Service
Address: National Blood Centre, James' Street, Dublin 8
Tel: (01) 4322800
Fax: (01) 4322930
Email: info@ibts.ie
Website: www.ibts.ie
Aertel page 691
Disability Bill
http://www.oireachtas.ie/viewdoc.asp?DocID=3208
Office of the Houses of the Oireachtas, Leinster House, Dublin 2. Ph: + 353 1 618 3000
http://www.oireachtas.ie/ViewDoc.asp?fn=/home.asp
National Gallery of Ireland
Address: Merrion Square West, Dublin 2
Tel. (01) 661 5133
Fax. (01) 661 5372
E-mail. info@ngi.ie
Web. www.nationalgallery.ie
Dublin Deaf Association
Address: 40 Lower Drumcondra Road, Dublin 9.
Tel: (01) 830 0522
Fax: (01) 860 0231
Deaf Heritage Centre
Contact: David Breslin
Address: St Josephs School, Navan road, Dublin 7
Tel: (01) 838 0058
Fax: (01) 838 0230