Back on air on 24th February 2008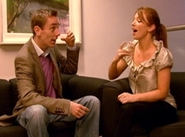 Ryan and Sarah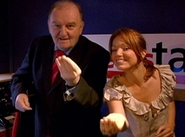 George and Sarah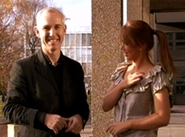 Ray and Sarah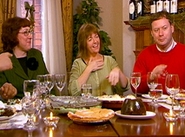 Alternative Christmas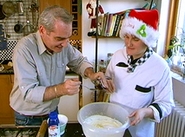 Eddie and Lisa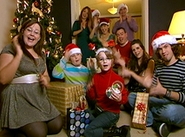 Hands On family
Hands On will be back on Sunday the 24th of February with more great shows every week. You can watch past shows in the Archive section or by clicking on the link below.


This week - 23 December 2007
Click here to watch past shows...
Be sure to tune in this Sunday and join the Hands On family for our great Christmas special! Sarah Jane tracks down celebrities and teaches them to sign a Christmas song. Eddie gets some cooking lessons from Deaf Chef Lisa Wilkinson and Teresa meets some Deaf people with very different backgrounds and finds out how they celebrate Christmas. We also have a great Christmas Molly & Mr. Milk with loads of prizes to be won!
Celebrities Sign Last Christmas
Sarah Jane grabs some top celebrities and attempts to teach them to sign the Christmas song "Last Christmas". She has her work cut out though, as teaching ISL to the likes of George Hook, Caroline Morahan, Ryan Tubridy, Grainne Seoige, Boyzone, Ray D'Arcy and Gerald Fleming, is no easy task. Be sure to watch and see if she pulls it off!
Alternative Christmas
Teresa meets some Deaf people with very different backgrounds and finds out what Christmas means to them. We sit down to eat with Milton Reedy from New Zealand, Jacky Chong from China, Shane Byrne from Israel, Michael McCabe from Ireland, Debra McCabe from the USA and Frankie Berry from Ireland to see how they'll be celebrating on Dec 25th.
Christmas Cooking
Eddie, the self confessed terrible cook, gets some last minute Christmas cooking tips and ideas from Deaf Chef Lisa Wilkinson. Lisa takes on the challenge of teaching Eddie her simple but delicious recipes for Mince Pies, Brandy Cream and Mulled Wine.
See the bottom of the page for the recipes and impress your family and friends with your new cooking skills this Christmas!
Molly & Mr Milk
We have a Molly and Mr. Milk Christmas special for you this week with a great competition to win loads of toys! All you have to do is send us a Christmas picture - everyone wins a toy!
Send your picture with your name, address and age to:
Hands On,
6 Wilton Place,
Dublin 2
Don't miss it this Sunday at 10:55am on RTÉ One!
That's all from us for this year so have a great Christmas, a Happy New Year and be sure to join us again on the 24th of February when we'll have more great programmes for you!
Links
handson-tv.bebo.com/
Hands On Aertel page 359
Hands On Celebrity Christmas Song
http://www.youtube.com/watch?v=ldsHT7Is5rA
Smyth's Toys, Jervis Street
www.toys.ie
Cafe Leon, Exchequer Street, Dublin 2, 01 670 7238
Penneys
www.primark.co.uk
Recipes from the programme, Enjoy!
Mince Pies
Pastry:
8oz Flour
2oz Icing sugar
5oz margarine
1 egg yolk
1 tablespoon cold water
½ teaspoon lemon juice.
Lakeshore mincemeat.
Butter for greasing the trays.
Icing sugar for dusting
A sprig of holly for garnish.
Whiz up the flour, margarine and Icing sugar. Work in the liquids gradually and bind up on the table with your hands. Rest in fridge for at least 1 hour.
Grease the tray, and preheat oven to 175C.
When the pastry is well rested, roll out to about 3mm thick. Using a suitable cutter cut out circles to fit the inserts on the tray. When each one is lined, fill with mincemeat. Be careful not to overfill. Cut smaller circles to cover the pies.
Bake in the oven for about 12 minutes until pastry is golden.
Cool for a few minutes. Remove from tray, dust liberally with icing sugar. Arrange on a doyley and garnish with a sprig of holly.
Mulled Wine
(For 4 people)
1 bottle Red Wine. (Nothing too fancy, but remember: if it's not good enough for drinking, then it's not good enough for cooking)
Half a Lemon
Half an Orange
3oz sugar.
8 Whole cloves
1 cinnamon stick
1 Bay Leaf
Pinch Coriander.
Put all the ingredients in a heavy saucepan. Place on a low heat and cook for as long as possible without boiling. Use a spoon to ensure that the sugar is dissolved but do not stir excessively. The wine will go cloudy if stirred and it doesn't look very nice.
Alcohol boils at low temperature.and you don't want to lose it! The longer the cooking the more flavours are absorbed into the wine. If you cover it, it is very hard to know whether it's boiling or not, so leave it open and cook for up to 1 & a half hours if possible.
Check the taste and add a little more sugar if desired. It is not meant to be sweet, but should not be dry either.
Serve using a ladle in warm goblets with mince pies and Brandy Cream.
Brandy Cream
Half a pint of cream
2oz Caster Sugar
1 and a half dessertspoons of brandy
Soft whip the cream until it holds the impression of the whisk for a few seconds. Add the brandy(Check to see that the brandy tastes alright first!) And whisk in the sugar.
The cream should not be stiff. just softly whipped.
What To Do With Leftovers
. Cut the turkey into cubes and add it to your favourite curry sauce, serve with rice.
. Dip cubes of turkey into batter and deep fry in hot fat. Serve with sweet and sour sauce and chips.
. Slice the ham and put into a sandwich with slices of mature white cheddar and a dollop of Ballymaloe relish. Delicious toasted.
. Bring left over vegetables and potatoes to the boil in water and a stock cube. Add a bit of sliced onion, a clove of crushed garlic and simmer for a few minutes. Whiz up in a blender, reheat and add 100mls of cream. Serve in mugs after a 20-mile hike around the mountains on St. Stephen's Day!!
. Make a white Sauce. Cut the ham into cubes. Fry in butter with a little garlic, sliced mushrooms and a drop of white wine. Add the white sauce, finish with cream and serve with your favorite pasta.