This Week - 23 November 2008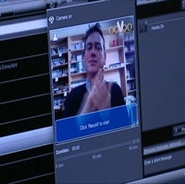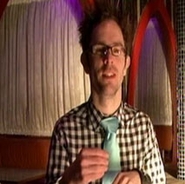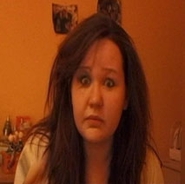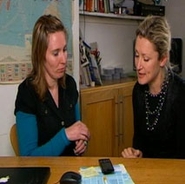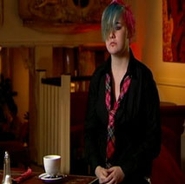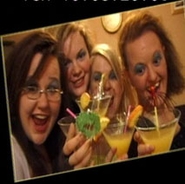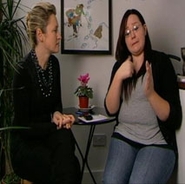 Click here to watch this and previous programme...
Last week in our special celebratory programme Eddie challenged Caroline Mc Grotty to take a trip back to 1980 to see how Deaf people lived in a time of body aids, no subtitles, no mobiles no email and no Deaf TV! Not to mention some seriously dodgy fashion mistakes. The Hands On team find out how four main Irish banks deal with Deaf people who want to use phone services. We get to meet members of the Deaf lesbian, gay, bisexual and trangender (LGBT) community, who identify their experiences of self awareness and "coming out" to their family and friends. Instead of our regular news with Senan Dunne, he reviews on the modern online communications such as OOVOO, and Skype. And don't forget, we have kid's favourite Molly and Mr Milk! Happy watching!
1980s challenge!
Hands On challenge Caroline to spend a whole weekend living in the 80's! Being stripped away of all modern technology such as mobile phone and internet we see her trying to figure out how to contact her friends to invite them to an 80's dinner party, complete with fashions, hair-dos and food!
Access to Banks
The simple convenience of online banking seems like a great way for Deaf people to look after their own finances without the inconvenience of going into their branch or having to ask someone to make a call on their behalf. But is it, really? More and more bank services, including initial registration for online banking and in some cases activating credit cards and transferring money now have to be done over the phone. As no alternative access methods are being offered for Deaf people, such as SMS or email services, many Deaf people are relying on a hearing person to make a call for them - but it turns out it's not as simple as that either. we call our four main banks, Allied Irish Bank (AIB) Bank of Ireland (BOI), Permanent TSB and Ulster Bank to see how they deal with a call from a Deaf customer. See below for the banks responses to what happened.
http://www.ulsterbank.ie/ri_personal.asp
http://www.aib.ie/personal/home
http://www.bankofireland.ie/
http://www.permanenttsb.ie/


Coming out
When you're growing up, people often make assumptions about your sexuality, if you're a boy it's assumed that you like girls and if you're a girl it's assumed that you like boys, but what if you feel different inside? Deaf members of the LGBT community must at some stage reveal their sexuality, or 'come out' to their family and friends. It can be a difficult time for many young LGBT people when they decide to open up about their sexuality as many fear receiving a negative reaction.
Conor Desmond recalls the anxiety of opening up to tell his family who he really was. John Charles Connolly tells us how bullying made him more confident in expressing himself. Lisa Brennan and Dominic McGreal also discuss what 'coming out' was like for them. And we speak to the Chairperson of Greenbow, John Fennell who advises which organisation to contact for support and information for Deaf LGBT people.
http://www.belongto.org/
http://www.greenbowdeaf.com/
The Dragon: http://www.dublinks.com/index.cfm/loc/
The Front Lounge, 33 Parliament Street: http://www.worldsbestbars.com/public/venue


Technology Review
Technology has made life easier and communication simpler, so contacting family and friends both home and abroad is a piece of cake! Senan takes a look at the availability of online video chat services , such as skype and ovoo and also discusses how to find the right webcam. Here, you can grab the chance to win a webcam by answering our competition question!
How often is Hands On on TV? Is it:
A. Every week,
B. Every 2 weeks or
C. every month?
Text your answer to 086 1736131 or email it to handson@mindthegapfilms.com and don't forget to include your name address and age. Good luck!
http://www.oovoo.com/
http://www.skype.com/intl/en/

Molly and Mr. Milk
Molly and Mr. Milk take a magical trip to the land of Rain this week with Shauna Hathaway and Philip Power. Philip sets up an experiment to find out what flowers needs to grow!
Draw us a picture of a rainy day and you could win €50 to spend on toys and a Molly and Mr. Milk Jigsaw
Send your picture with your name, address and age to:
Hands On, 6 Wilton Place, Dublin 2.
http://www.milano.ie/find-a-restaurant/restaurant/100000/
Bank Responses
Ulster Bank:
"We apologise for not being able to get through to our textphone service. We believe there may be an intermittent fault on the Republic of Ireland line and we now have an engineer assessing the situation which we hope to resolve with the utmost urgency."
AIB:
"As email and SMS are typically unauthenticated, we do not provide banking services on these channels. However, if you pre-register your pre-paid mobile phone on the Internet, we do allow SMS messages to perform text top-up.
On the website there is an on-line enquiry form, which can be used if a customer needs assistance. Every effort will be made to get back to the customer as quickly as possible.
For security reasons it is not possible to for a third party to access account information on behalf of the account holder. But the services offered on www.aib.ie are more comprehensive than those offered over the phone."
Bank of Ireland:
"At Bank of Ireland our policy is to provide service to all our customers. Where a customer needs additional accommodation or assistance to avail of our services, through disability or other reasons, we endeavour to provide such accommodation on an individual case by case basis.?? With regards to our on-line services, the full suite of service is available to deaf customers. In using the on-line service, our deaf Customers will be provided with support via our branch network to initially register for the on-line service or if they have any PIN -related issues. We do not have a facility for a 3rd party or a relay service however we do facilitate emergency card cancellations via our phone service. ??As with all our services, procedures and policies are reviewed on an ongoing basis. "
Permanent TSB:
"Permanent TSB offers a range of interactive and banking services including phone and internet banking for its customers.

To register for the phone and internet services [branded Open24], we require the bank customer to personally register by phone or through their branch.

In the case of people with impaired hearing, we currently ask them to register for Open 24 in person in their local permanent tsb branch.

The reason for this is to ensure customer security as we do not have any way of confirming who the 3rd party is and we cannot allow unidentified third parties to pick security details for other customers.

Irish Life & Permanent is an organisation that is very committed to creating a positive environment and banking experience for both staff and customers with disabilities.

We are currently in the process of reviewing our products and services specifically in relation to our customers with disabilities. We have recently engaged with National Association for Deaf People (DeafHear) to gain an understanding of the type of technology being used today. We are looking at various options that will improve the services we offer for our hearing impaired/deaf customers. We recognise that improvements do need to be made but as outlined above we are making great efforts to address issues in relation to our customers and staff with disabilities in a positive and progressive manner."