This Week - Sunday 23rd October 2005.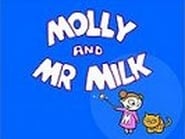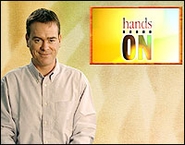 This week we check in with two of our health and fitness volunteers to see if they took the advice that Dietician, Margot Brennan, gave them last week! Senan meets with testicular cancer survivor, Ger Boyce, and we see the photography exhibition produced by students from St. Joseph's and St. Mary's students this summer. We also have the news with Senan and a brand new Molly and Mr. Milk for our younger viewers. This week Molly and Mr. Milk go to the land of N and have another exciting adventure!
News with Senan
Touch the Sound, a movie about Deaf musician, Evelyn Glennie has been released in the US in September without subtitling. The distributor said: "We made the decision not to subtitle the prints for two reasons: the visual aspect of the film is as important as the aural, and the director felt that the subtitles would be hurtful; and because much of the movie deals with sounds that subtitles cannot deal with."
Hearing Dogs for Deaf People have launched their first ad campaign to raise awareness and funds. The ad will be shown on digital and satellite channels and on Channel Five. To date, Hearing Dogs for Deaf People has placed more that 1,100 hearing dogs throughout England, Scotland, Wales and Ireland.
In a recent Amercan survey, the attidudes of young and older adults towards hearing aids have been studied. Young people were generally more positive, with just 2.5% of respondants thinking that hearing aid users think more slowly than others do, in comparison with 17 to 23% of the older group. However 55% of the younger group said they would be concerned to be seen wearing a hearing aid.
http://www.hear-it.org/page.dsp?page=3667
At home, the Limerick school for Deaf children marked its 25th anniversary in September. Its main objective this year is to find an interpreter for the school. A free-lance interpreter has recently moved to the area but this is insufficient to cater for the needs of the Limerick area.
Some dates for your diaries:
The IDSA will host an International Deaf Water Polo Tournament next Sunday the 29th October at the National Aquatic Centre in Dublin.
The NAD is organising a 'Teenage Day' on the 2nd November at the go-karting track in Santry.
And applications for the Fulbright Scholarship to Gallaudet close on Nov 18th next.
Health and Fitness
This week Dietician, Margot Brennan, sends Wendy Murray jr. and Julianne Gillen on a weekly shop to see if they have followed her advice from last week's programme. Will they steer clear of the sweets aisle?!
Ger Boyce
Senan goes to Limerick to meet testicular cancer survivor, Ger Boyce. Ger tells him about how he first realised there was something wrong, how he was diagnosed, and about his treatment. He talks about communicating with his doctor and gives some serious advice to male viewers.
Hear I Am
This summer a graduate student, Melissa O'Neal, from Gallaudet University in the US, worked with children from St. Joseph's and St. Mary's schools to produce the photography exhibiton "Hear I Am". We visit The Ark to see their finished work.
Molly and Mr Milk - N
In this brand new episode, Molly & Mr Milk pay a visit to the land of N. Mr. Milk flies into the night sky - and falls back down again! Don't worry, Molly is a great nurse and bandages him up in no time. To win a t-shirt this week all you have to do is draw a picture of yourself with Molly and Mr. Milk and send it to Hands On, 6 Wilton Place, Dublin 2.
CONTACTS
Touch the Sound
Evelyn Glennie website:
www.evelyn.co.uk/TTS1.htm
Hearing Dogs for Deaf People
http://www.hearing-dogs.co.uk/
The Grange
Wycombe Road
Saunderton
Princes Risborough
Buckinghamshire
HP27 9NS
Tel: 01844 348 100 (voice & minicom)
Fax: 01844 348 101
Email: info@hearing-dogs.co.uk
Limerick School for Deaf Children
Rosbrien,
Limerick.
Tel: 061 227722
IDSA Waterpolo
IDSA website:
http://www.irishdeafsports.com/news/news59.htm
National Aquatic Centre website:
http://www.nac.ie/
NAD Teenage Day
NAD website:
http://www.nadi.ie
Kart City website:
http://www.kartcity.net/
Fulbright Scholarship
School of Clinical Speech and language Studies (TCD) website:
http://www.tcd.ie/Clinical_Speech/fulbright.php
Gallaudet website:
http://www.gallaudet.edu
Irish Fulbright Commission website:
http://www.fulbright.ie/irish_awards_deaf_studies.php
Carmel Coyle, Executive Director
Irish-US Fulbright Commission,
Brooklawn House,
Shelbourne Road
Dublin 4
tel: +353 1 660 7670
fax: +353 1 660 7668
email: admin@fulbright.ie
website: http://www.fulbright.ie
Health and Fitness
Irish Nutrition and Dietetic Institute website:
http://www.indi.ie/
Tesco Merrion
Merrion Centre,
Merrion Road
Dublin 4.
Tel: 1890928471
Fax: 01-2839920
Testicuar Cancer Information
North West Health Board, Health Promotion website:
http://www.nwhb.ie/files/healthpromotion/populationgroups/testicularcancer.shtml
Action Cancer website:
http://www.actioncancer.org/men_testicular.asp
American Cancer Society website:
http://www.cancer.org/docroot/CRI/CRI_0.asp
Livestrong (Lance Armstrong Foundation) website:
http://www.livestrong.org
Hear I Am
The Ark website:
http://www.theark.ie