This Week - 22nd October 2006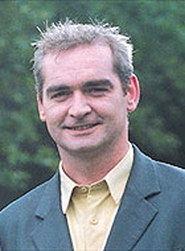 Eddie Redmond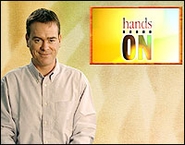 Hands On News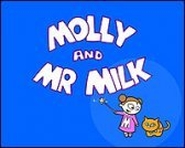 This week on Hands On, Sean Herlihy meets Deaf triathlete Wayne Reid as he competes at the Dublin City Triathlon. Eddie Redmond takes a trip down memory lane as he brings some past pupils back to the post primary building of St. Joseph's school and Julianne asks some Deaf and hearing siblings about growing up together. Senan is here with news from around the Deaf world and Molly & Mr. Milk get into the Halloween spirit when they visit the land of B!
Wayne Reid
Last month, Wayne Reid competed in the Dublin City Triathlon, which was the biggest triathlon event in Ireland to date. He swam, cycled and ran a gruelling course in under 2 hours 20 minutes, finishing in 38th place, out of almost 500 competitors. Sean Herlihy was at the finish line to meet him and ask how he got involved in such an unusual sport.
St Joseph's School
This year St. Joseph's School for Deaf Boys saw a big change when the post primary building closed to St. Joseph's students, after almost 150 years as a school for the Deaf. All of the students - primary and post primary - started the school year in the newer Edmund Rice building within the St. Joseph's grounds in Cabra. To mark this event, Eddie Redmond invited six of the building's past pupils back to the school to tell us their favourite stories about their time in the post primary building.
Siblings
Julianne meets Deaf and hearing siblings, Conor and Sinead Desmond, and Maeve and Ray Dermody, and asks them about their experiences growing up together, what they fight about, signing at home, acting as interpreters for each other and which of them is better looking!
Molly and Mr. Milk. (Letter B)
Molly and Mr. Milk get into the Halloween spirit when they visit the land of B. Find out the sign for Bat and Broom!
News with Senan
Judge allows taped interview in trial
In the US, a judge ruled last week that a Deaf woman's videotaped police interview can be used in her trial. The woman is charged with the kidnapping and murder of another Deaf woman, whose dismembered body was found in a Sioux Falls landfill and a Minnesota ditch. The Judge ruled that the defendant's deafness did not affect the police interview, as her interpreted answers were consistent with the questions. http://www.yankton.net/stories/091406/news_20060914027.shtml
New Gallaudet President Met With Protest
In May Gallaudet elected a new president, Jane Fernandes, but within moments of the announcement, a mass of students had blocked the main gates of the campus. Many were protesting the lack of racial diversity among the finalists. some said the new president was cold, and condescending. All the finalists were Deaf, and many said that that in itself was cause for celebration. Eighteen years after students marched to the White House and the Capitol demanding a "Deaf President Now" and launching a civil rights movement, this generation of students has new expectations and new demands.
http://www.gufssa.org/
http://www.deafread.com/
Sports News
In the European Waterpolo Championships in Hungary, Ireland came third and in Soccer, Ireland drew 2:2 with Holland in Amsterdam.
www.irishdeafsports.com
Competition
Our subtitled DVD this week is 'Poseidon', a remake of the film 'The Poseidon Adventure'. To win a copy of the DVD, answer this question:
Can you name one of the stars of the original film:
The Poseidon Adventure?

Text your answer to 086 173 6131
or
Email your answer to handson@mindthegapfilms.com

SMS messages are charged at your usual network rate.
The winners will be picked at random and announced on the show. Remember, y o u m u s t i n c l u d e y o u r n a m e a n d a g e . G o o d L u c k !
And finally BBC's long running programme for the Deaf Community See Hear has changed from on-screen subtitles to Ceefax 888 teletext. Should Hands On do this? Put our subtitles on page 888? Let us know what you think.
Presenter Search
This series we're searching for a brand new presenter for Hands On! If you'd like to see yourself on screen with Senan, Julianne, Sean, Teresa, Eddie and Caroline, send us a video that shows us your presenting skills! We would like to see you presenting a story that interests you, and interviewing someone (it doesn't matter who!). We will show your video on Hands On and our panel of judges will decide who will be the newest member of the Hands On team!
Send your videos (Mini DV or DVD) to Hands On, 6 Wilton Place, Dublin 2 before November 20th 2006. Videos should be no longer than 3 minutes.
CONTACTS
Triathlon
http://www.dublincitytriathlon.com/
http://www.triathlonireland.com/
Piranha Triathlon Club
http://www.piranhatri.com
St Joseph's School
St Joseph's School for Deaf Boys
http://www.stjosephsboys.ie/
Cabra,
Dublin 7.
Tel: 01 838 0058
Fax: 01 838 0230
E-mail: st.joes@iol.ie
Siblings
St. Stephen's Green Shopping Centre
www.stephensgreen.com/
SODA (sibling of Deaf Adult) Egroup
http://groups.yahoo.com/group/Sibling_of_Deaf/
News
Gallaudet University
www.gallaudet.edu/
800 Florida Avenue, NE,
Washington DC 20002
Minicom/Tel: 202 651 5000
Irish Deaf Sports Association
http://www.irishdeafsports.com/
40 Lower Drumcondra Road,
Drumcondra,
Dublin 9
Email: info@irishdeafsports.com
Fax: 01 8500499
Mobile(Secretary): 0876800768
See Hear
http://www.bbc.co.uk/seehear/
Room G418
BBC White City,
201 Wood Lane
London W12 7TS
ENGLAND
Voice: 020 8752 4703
Text: 020 8752 5292
SMS: 07786 209090
Fax: 020 8752 6535
Warner Brothers
www.warnerbros.com