This Week - 22 March 2009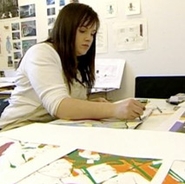 Lorraine Creed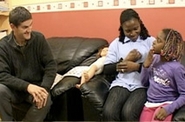 Martin Conroy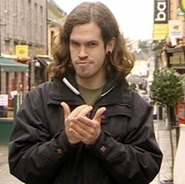 Ronan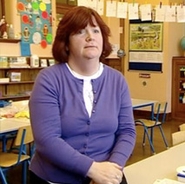 Joan Clarke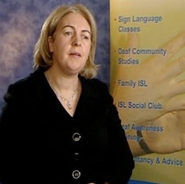 Evelyn Conroy
This Sunday, Hands On takes a trip to the west of Ireland, to Galway, as Ronan Dunne introduces us to a Deaf art student in Galway-Mayo Institute of Technology (GMIT) who shows us some of her artwork, next we meet a Deaf woman who recently took a landmark legal case challenging her exclusion from Jury Service. Finally, we call in to the Centre for Sign Language Studies (CSLS) to find out about some exciting developments there - stick around for Molly & Mr Milk at the end of the show!
ART STUDENT
Lorraine Creed is a young Deaf woman from Limerick studying screenprinting at Galway-Mayo Institute of Technology. Even in her final year Lorraine feels she still has a lot to learn and tells us about researching her thesis in which she focused on the contribution of Deaf artists in the art world over centuries and importance of recognising the work done by Deaf in the past and present. Lorraine tells us about her dream to work as an art therapist and not wanting to be labelled as simply "a Deaf artist". She explains how being mainstreamed at school has led to the theme for her work: "Inside I'm lost".
http://www.gmit.ie/
LEGAL CASE
Last May, Joan Clarke, a Deaf woman working as an SNA in Loughrea, took a landmark legal action against Galway County registrar, the Court Service and the Attorney General battling for her right to serve on a jury. She tells us how excited she felt on receiving her jury summons and her disappointment when she realised that, under the Juries Act 1976, she is not permitted to serve on jury on the grounds of being Deaf: "a persons who, because of insufficient capacity to read, deafness or other permanent infirmity, is unfit to serve on a jury". Joan is challenging the law as she feels this excludes Deaf people's right to participate to Irish society. Evelyn Nolan Conroy comments on the lack of understanding that exists about the role of interpreters in court settings. We await the outcome of the case, but Joan hopes that, like the US, New Zealand and Canada, the law will be overturned and allow her to serve on a Jury like her hearing peers.
http://www.independent.ie/topics/Joan+Clarke

http://www.galwayindependent.com/

http://www.galwaynews.ie/


St. Ita's Primary School, Loughrea, Co. Galway
CENTRE FOR SIGN LANGUAGE STUDIES (CSLS)
CSLS, was set up in 2001 by Martin and Evelyn Conroy, and have been providing ISL classes, Deaf awareness training, and interpreter services ever since. But now they have something new in the pipeline - an interpreter training course which they hope will be provide an alternative to the CDS in Dublin.
Evelyn gives us a brief history of the CLIS and explains why she and Deaf husband, Martin felt the need to set up this service in the west of Ireland. Martin talks about his role in teaching ISL to families of Deaf children and the importance of providing Deaf role models to those families..
http://www.cslstudies.com/index.htm
http://www.cacdp.biz/
MOLLY & MR MILK
Molly and Mr Milk are still looking for the letters that the moon stole! Today Mr Milk ends up in a race!
Useful links:
Juries Act
http://www.courts.ie/