Sunday 21st November 2004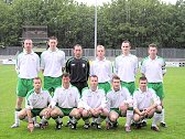 This week Hands On screens the first of two pieces on the Irish teams going to the 2005 Deaflympics in Melbourne. Teresa Lynch meets Jean O¹Reilly who signs on RTE¹s News for the Deaf. In 7-up, Eddie Redmond meets up with a group of teenagers who were first filmed for Hands On back in 1996 and finds out how there getting on. And finally Molly and Mr. Milk travel to the land of I where Molly makes a new friend.

News with Senan
In New York, a Deaf man threatening suicide was signed down by a Brooklyn police officer. Detective Anita Golden, who has been learning sign language for two years, said that the incident has persuaded her to study harder.
http://www.nydailynews.com/news/local/story/242059p-207575c.html
The BBC are in trouble after broadcasting a stream of swear words on their subtitling service during pre-watershed hours. The BBC apologised and said that future subtitlers will question the inclusion of any strong language on pre-watershed programmes.
http://www.telegraph.co.uk/news/main.jhtml?xml=/news/2004/10/19/nbleep19.xml=/news/2004/10/19/ixhome.html
The Disability Discrimination Act came into effect in the UK on October 1st but the RNID have discovered that 75% of firms are at risk of court action because they have still not made any changes.
http://news.scotsman.com/latest.cfm?id=3673880
Finally in Northern Ireland, the Green Party have selected, Shane Gilchrist, a Deaf Irish Sign Language user to stand for the party in next year¹s Belfast City Council elections. If elected, Shane intends to make Belfast a real Sign Language city. Look out for a follow up on this story on the next Hands On.
Deaflympics - Football
Sean Herlihy meets with Geoffrey Foy, the manager of the Deaflympic football team and Geoffrey McCormack, one of the players, to finds out about the funding problems the team are facing just getting to the Deaflympics. Sean also meets Fergus Massey of the IDSA and asks what they are doing to support their athletes.

Chatting With Teresa
This week Teresa Lynch meets Jean O¹Reilly. Jean is a well known face in the Deaf community due to her involvement in the Dublin Deaf Theatre and signs for News for the Deaf.
What I want to be when I grown up
Back in 1996, Hands On filmed a group of school children and scouts, asking them what they wanted to be when they grew up. Now they¹re back and Eddie finds out how life is going for them.

Molly and Mr Milk - I
Molly and Mr. Milk travel to the Land of I and meet some new friends. To win a T-shirt this week all you have to do is draw a picture of ice-cream and send it to Hands On, 22A Fortescue Lane, Rathmines, Dublin 6.
CONTACTS

Olympic Council of Ireland
http://www.olympicsport.ie/

Melbourne 2005 Deaflympics
http://www.2005deaflympics.com/

Irish Deaf Sports Association
Address: 40 Lower Drumcondra Road, Drumcondra, Dublin 9
Fax IDSA OFFICE +353 1 8500499
Fax IDSA Secretary (home) +353 1 2444459
Mobile: Secretary +353 876669994
Email: info@irishdeafsports.com
Web: http://www.irishdeafsports.com/about.htm

The Irish Sports Council
Address: Top Floor, Block A, Westend Office Pk, Blanchardstown, Dublin 15.
Fax: (01) 8608880
Tel: +353 1 8608800
Email: info@irishsportscouncil.ie
Web: http://www.irishsportscouncil.ie/home.asp

Irish Film Institute
Web: www.ifi.ie

Dublin Theatre of the Deaf
C/O Geraldine Fitzgerald
Address: 40 Lower Drumcondra Road, Dublin 9.
Tel: (01) 830 0522
Fax: (01) 860 0231