Best of Hands On - 19 April 2009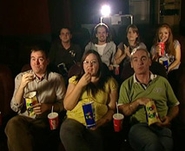 Hands On presenters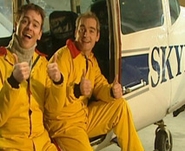 Senan & Eddie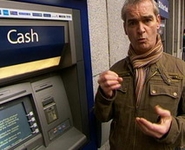 Eddie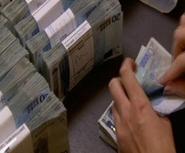 Economy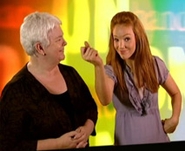 SJ & Josephine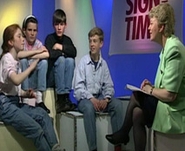 SJ on Sign of the Times
Over the next 6 weeks we will be giving you the chance to watch your favourite programmes again! Tune in this Sunday at 10.40am on RTÉ One for our first "Best Of" Hands On! We look back at the special programme celebrating 20 years of Deaf TV including some unforgettable clips and we take a look at the most talked about topic of the year with an updated version of Eddie's report on the Recession.
Our Economy: Recession
We find ourselves in one of the most difficult and uncertain times for our economy and, with Ireland in recession, facing challenging times ahead.
Eddie takes a look at what's happening with the Irish economy and how it will affect you and me.
Deaf financial journalist, John Cradden, brings up to date information on how the economy has changed over the past year and the impact it has made globally. Mark Lynch tells us his story in the difficulty of getting work in the midst of recession and FAS explaining the reason the rise of unemployment in Ireland.
Financial Regulator: www.itsyourmoney.ie
Government Budget: www.budget.gov.ie
FÁS: www.fas.ie
Money Advice & Budgeting Service: www.mabs.ie
20th anniversary of Irish Deaf TV
We have some great memories and laughter as we come to celebrate 20 years of Irish Deaf TV with embarrassing moments from presenters and fashion disasters thrown in for good measure!!
Sign of the Times and Hands On presenters are united for this week's feature programme reeling back the years to show you of some of the most unforgettable programmes and uncut footage!
Back in 1988 RTÉ broadcast the first Irish Deaf TV series, Sign of the Times, which tackled issues faced by the Irish Deaf community and increased awareness of the Deaf among the hearing community creating a greater sense of identity among Deaf People. It featured the first ever Irish Deaf TV Presenters Josephine O'Leary and Pat Matthews.
We trace the history of how Sign of the Times came about, how Josephine got the job and how the Deaf community reacted to the first episode of Sign of the Times all the way back in 1988! Alvean Jones and Teresa Lynch tell us how Deaf TV has evolved over the past 20 years and Julianne talks about causing scandal as a Hands On presenter!
We also hear from John Bosco Conama and Kevin Stanley, both former presenters, about how the Deaf community has been changing along with the TV programme!
Finally, we give you the chance to see what happens behind the scenes with some hilarious moments of presenters getting it all wrong!
Be sure to tune for the 1st "Best of Hands On"!
Enjoy!