This week - 18 November 2007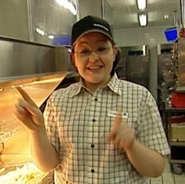 Caroline in McDonalds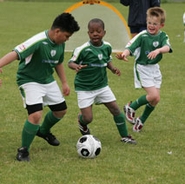 SSS Deaf Camp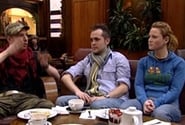 There will be no Hands On programme this Sunday 25th November but we're back next Sunday 2nd Dec with part one of our feature programme about ISL. And then we're on every Sunday until Christmas!

Click here to watch the show...
Tune in this Sunday for another great episode of Hands On! Sean takes us to St Joseph's where the FAI organised a great Summer Soccer camp for 60 deaf boys and girls. Caroline has some questions about why young Deaf people who are still at school are getting the disability allowance and Ronan meets some people who are enjoying the benefits of attending classes provided by the IDS' Deaf Adult Literacy Service. We have another brand new Molly and Mr Milk at the end of the programme and Senan brings us the latest news from the Deaf world! Don't miss it!
FAI Summer Soccer Camp
Last May, the Football Association of Ireland organised the first Summer Soccer Camp especially for deaf children. Sean met the organisers to find out why they set up a camp specifically for deaf children. He also meets Elizabeth Gamble, Football for All nominee who received training from the FAI to be a coach at the event. And finally the participants themselves tell us what they thought of the camp - and show off some of their new soccer skills!
Disability Allowance
Caroline McGrotty looks at the Disability Allowance - why young Deaf people who are still at school are getting it and what they're spending it on! Some feel the Disability Allowance is having a negative impact on young people and may reduce their future career prospects. Caroline poses some questions to her friends - are they worried about their ability to get work in the future? does accepting disability allowing means accepting you're disabled? And what are they doing with €9260 a year!!!
Deaf Adult Literacy Service
When an IDS survey revealed that 80% of Deaf people have problems with literacy, they decided to set up a Deaf Adult Literacy Service providing free classes in ISL on everything from English to Digital Creativity, Driver Theory and Deaf History. Ronan finds out more about the service, why the Deaf community have such problems with literacy and he meets some of the students who are enjoying the benefits of attending the classes.
If you would like to find out more about the Deaf Adult Literacy Services contact:
www.deaf.ie/DALS.htm
Molly & Mr. Milk
We have another brand new Molly and Mr. Milk this week! Molly & Mr Milk are still trying to get all the letters back from the moon, and when they go searching for them in an old house, they get chased by some big scary spiders!
To win a Molly and Mr. Milk Jigsaw, all you have to do is draw a scary picture!
Send it with your name, address and age, to:
Hands On
6 Wilton Place
Dublin 2.

News with Senan
Abbey Theatre's first ever Captioned Performance
The Abbey Theatre in Dublin is the first venue in the Republic of Ireland to introduce captioned performances for the Deaf Community. The first captioned performance is Roddy Doyle's 'The playboy of the Western World' on Saturday 24th November, at 2.30pm.
Captioning transfers the spoken word into visible text which is displayed on a caption unit that is viewed by the audience. It allows deaf, deafened and hard of hearing audiences to follow what is being said on the stage as well as highlighting sound effects and noises off stage.
For tickets contact The Abbey Theatre.
www.abbeytheatre.ie
www.stagetext.org
Deaf Scientist in the UK involved in Nobel Prize Peace Award
Dr Andrew Manning, a Deaf scientist from New Zealand was one of the scientists involved in the Intergovernmental Panel on Climate Change (IPCC) group which was awarded this year's Nobel Peace Prize.
In his work, he makes measurements of both carbon dioxide (CO2) and oxygen (O2) in the atmosphere. Carbon dioxide, produced from burning fossil fuels, is the most important greenhouse gas contributing to climate change. These measurements help us to understand the global carbon cycle, and this information can then be used by climate scientists to help predict future climate change. Governments will hopefully use this research to make the right decisions for a healthy planet.
Incidentally, Dr Manning has a Deaf sister, Victoria was the driving force behind the New Zealand Sign Language Act 2006, which grants NZSL official language status.
Irish Deaf Water Polo
As part of their preparations for Deaflympics 2009, the American Deaf Men's Water Polo team has invited Ireland's Deaf Men's Polo Team to a series of friendly matches in California in November.
Sean Herlihy and Dave Fitzgerald, the Water Polo Director and Coach have selected a team of 11 players who will face a gruelling schedule of training with the US team as well as International friendly matches. The boys will be at the impressive State University, Northridge, California.
We'll keep you updated on their trip.
http://www.irishdeafsports.net/
Irish Association of Sign Language Interpreters
The Irish Association of Sign Language Interpreters had their Annual General Meeting on 13th October 2007 at the Dublin Deaf Association. This was the first time the event was well attended by over 40 members, but proceedings came to a halt when the 5 members of the Executive Committee resigned from the Board.
IASLI is the professional representative organisation for Irish Sign Language interpreters in the Republic of Ireland and Northern Ireland and their role in the profession is important.
The Executive Committee felt that the organisation needed to revisit its constitution and consider the way forward for the profession and the organisation and in order to do this they had to step down from the Committee.
No nominations were received from the membership to take over any positions on the committee and as a result IASLI currently has no committee.
The organisation is now therefore in suspended mode until members convene in December to try and decide the future of the organisation.
We at Hands On will be following this with interest as the situation leads to questions about the future and direction of IASLI.
www.iasli.ie
Other News
Irish Deaf Youth Association's 21st Anniversary
Happy 21st birthday to the Irish Deaf Youth Association!
The Irish Deaf Youth Association was set up on the 18th October 1976 by a group of young adults in Athlone, Co. Westmeath. With support from the Irish Deaf Society, the founding members embarked on leadership courses and set up a network of Deaf young people. The IDYA is run by young Deaf people aged between 18 - 35. They have organised various events and opportunities for young Deaf people over the past 21 years. They also have a role in ensuring that young Deaf people are represented on a national level by being affiliated to the Irish Deaf Society, European Union of the Deaf Youth and the World Federation of the Deaf Youth (or WFDYs).
www.irishdeafyouth.com
Links
www.deaf.ie/DALS.htm
www.welfare.ie/publications/sw29.html#1
McDonalds
www.mcdonalds.ie
Ted Baker
www.tedbaker.com
Mimo Cafe, Powerscourt Shopping Centre
Ground Floor Powerscourt, Tel : 6794160
The Metro Cafe
43 South William Street, Dublin 2 Tel : 679 4515
St. Josephs School for Deaf Boys
www.stjosephsboys.ie
St. Marys School for Deaf Girls
www.stmarysdeafgirls.ie
Dublin City Council Parks and Landscape Services
www.dublincity.ie
Warner Brothers
www.warnerbros.com