Hands On! - 24 Nov 2013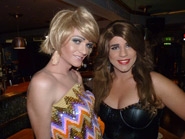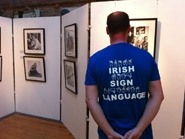 When was the last time you squeezed into a stunning dress for a night out? If you're a man it's probably been a while. Not so for Rob Young and John Charles Connolly. We talk to them about performing as Michelle Ryan and Kimmy Dash!

The campaign for Irish Sign Language Recognition has been heating up of late, with area councils and even the Seanad recognising this great language. We catch up with the campaign team in these exciting times.

And Eddie Redmond is back with Take 5! This week he's talking to swim legend Alan Turner

Be sure to tune in at 12.35pm, Saturday November 23rd on RTÉ One, or you can catch the repeat at 10.40am, Sunday November 24th on RTÉ One. The programme will also be made available on the RTÉ Player and at www.youtube.com/user/HandsOn3

Produced with thanks to:
The George thegeorge.ie
Catch! The Ilac Centre https://www.facebook.com/catchretail
Cup Caf http://cupcafe.ie/
Dstudios Photography http://dstudiosphotography.com/#/home
Centre for Deaf Studies http://www.tcd.ie/
The Liquor Rooms http://theliquorrooms.com/