Hands On! - 16 Dec 2012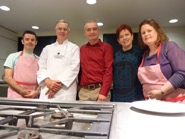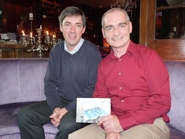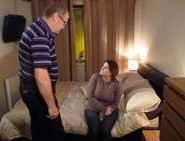 Hands On, 16th December at 12.15pm on RTÉ One
To view the information below in ISL - click here - http://youtu.be/pwVzOXep6p4
On this week's programme we have a challenge for two Hands On viewers as they battle it out in the kitchen to win the coveted title of Ireland's Best Deaf Chef! Tune in to see if their cooking lives up to Eddie and Julianne's high standards. Our wannabe chefs will also receive a master class from Niall Murphy - Head Chef at Donnybrook Fair Cookery School, you don't want to miss it! Check out the recipes here
Then it's time to check in with Eddie in the Take 5 studio. This week he meets Fr. Stephen Monaghan, former National Chaplain to the Deaf community who's now working with the Deaf community in Ethiopia. Fr. Monaghan shares stories about his early encounters with the Deaf community and recalls the happy memories he has of marrying many Deaf couples over the years.
Please find details below if you would like to donate to Fr. Monaghan's Vincentian Ethiopian Deaf Fund.
Bank: AIB 140 Lr. Drumcondra Road.
Account Name: Vincentian Ethiopian Deaf Fund.
Sort Code: 93-22-05
Account No: 60562466
We also have some important information on the programme about domestic abuse, how to know if it's happening to you and where to turn to for support. The holiday season is often considered a time for spending time with family and loved ones but a sad fact is that many women in Ireland are afraid of someone close to them. We talk to Margaret Martin from Women's Aid and to Lynn Shannon who set up DeafHope, a service in the UK that provides support for Deaf women experiencing domestic abuse.
For more information please contact:

Woman's Aid - Ireland's organisation for supporting women experiencing domestic abuse.
Their helpline can be contacted via text on 087-9597980 or you can email helpline@womensaid.ie everyday from 10am - 10pm except Christmas Day.
You can also check out http://www.signhealth.org.uk/ for more information about DeafHope
Hands On would like to thank
Donnybrook Fair Cookery School http://www.donnybrookfair.ie/cookeryschool
Women's Aid http://www.womensaid.ie/
37 Dawson Street http://37dawsonstreet.ie/
Monty's of Kathmandu http://www.montys.ie/