This Week - Sunday 15th January 2006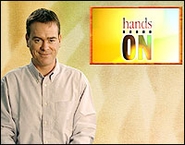 Happy New Year from everyone at Hands On! In this week's programme Senan Dunne talks to journalist, John Cradden, and Professor Des Power, about the representation of Deaf people in Ireland's print media. Caroline Worthington gives Hands On viewer, Christropher Kiely, a New Year makeover, and we pay a visit to the International Deaf Water Polo Tournament, despite the IDSA's disapproval... We also have Senan with the news and a brand new Molly and Mr. Milk for our younger viewers.
News with Senan
In the US, 40 Deaf students have been suspended for joining teacher's protest
40 students at the Michigan School for the Deaf walked out of classes to join a former teacher protesting at the lack of Deaf-Lead policy at the school. Chief among their demands is the need for a Deaf principal fluent in ASL. They also want all staff to be ASL fluent and to have training in bilingual education. The former teacher Ryan Comerson has now gone on hunger strike to draw attention to the demands. In a press release Comerson wrote, "I have had it, I cannot tolerate the daily occurrence of language deprivation any longer. Let us all unite and take a stand... It is past time to feed our starving children."
www.starvingforaccess.blog.com
In the UK free smoke alarms for Deaf people
Suffolk County Council's fire and rescue service has become the first in the UK to supply new RNID smoke alarms, free to people who are Deaf or Hard of Hearing. The council says a third of people with a hearing loss say they would have difficulty waking up to a conventional smoke alarm, especially since hearing aids are taken out at night.
The RNID Smoke alarms have a flashing light, standard audio alert and a vibrating pad, which is placed under the mattress or pillow to shake the person awake when the alarm detects smoke.
Suffolk fire and rescue will be fitting these special alarms for anyone who needs them.
http://www.rnid.org.uk/
And now our to competition. We have some DVDs of one of last year's most eagerly awaited children's films: Charlie and the Chocolate Factory.
All you have to do is text or email the name of the famous author of the book on which the film is based.

Text your answer to 086 173 6131 or Email your answer to handson@mindthegapfilms.com
The winners will be picked at random and announced on the show. Good Luck!
Deaf in the Media
Senan Dunne meets John Cradden, a freelance journalist, and Desmond Power AM, PhD Emeritus Professor of Special Education at Griffith University, Queensland, to talk about how Deaf people are represented in the Irish print media. Des Power gave a lecture at Trinity College this November, entited "A Good Press? Deaf People and Deaf Issues in the News" for which he undertook a study of Irish coverage of Deaf people and Deaf issues in the newspapers. Des and John discuss the reasons why journalists are still using outdated phrases in their descriptions of Deaf people and what Deaf people can do to change this.
New Year Makeover
Caroline Worthington takes lucky Hands On viewer, Christopher Kiely, on a shopping spree and gets a great new look for him for the New Year. As well as revamping his wardrobe, we take Christopher to the Grafton Barber for a new hairstyle and a hot towel shave.
Water Polo
This October the Irish Deaf Sports Association hosted the International Deaf Water Polo Tournament at the National Aquatic Centre in Blanchardstown. Hands On were eager to film this event but were told by the IDSA that we were not to come and were banned from filming. We went along anyway, tune in this Sunday to see what happened...
Molly and Mr. Milk (Letter U)
Molly and Mr. Milk have a brand new adventure this week, in the land of U. Mr. Milk is up to his old tricks again and has a fall but Molly is on hand to save the day.
CONTACTS
Trinity College Website
www.tcd.ie
Warner Brothers
www.warnerbros.com
The Grafton Barber
http://www.graftonbarbers.com
51 Grafton Street
Dublin 2.
Tel: 01 6796984
graftonbarbers@graftonbarbers.com
Marks and Spencer
www.marksandspencer.com
15/20 Grafton Street
Dublin 2.
Tel: 01 6797855
River Island
www.riverisland.com
102 Grafton Street,
Dublin 2.
Tel: 01 6778257
Envy Menswear
31 South Anne st,
Dublin 2.
Tel: 01 6795627
Irish Deaf Sports Association
http://www.irishdeafsports.com
40 Lower Drumcondra Road,
Drumcondra,
Dublin 9
Ireland
Email: info@irishdeafsports.com
Fax: 01 8500499
SMS: President 0872359296
Vice-President 0868079718