New series of Hands On!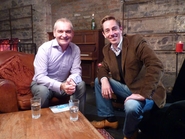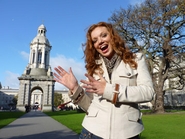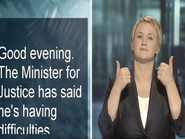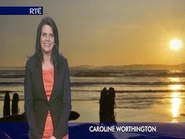 Sunday, 13th November at 12pm on RTÉ One
Hands On is back on your screens for the 16th series! Make sure you tune in every Sunday from now 'til February 5th to catch some fascinating stories, important information and exciting challenges! It's guaranteed to be the best series yet!
Third Level Education
Starting college or university can be a daunting experience. There's long list of things to prepare before you start but for Deaf and Hard of Hearing students, there's one extra thing on the list- to secure the right support and access.
In the first episode of 'Hands On', Sarah Jane explores the process of getting the right support to sail through third level education and how to get involved in the social side of college life. We meet students to find out about their experiences and get some valuable advice from Deaf Support in 3rd Level and the Association of Higher Edication Access & Disability on how to overcome the challenges and make the most of the exciting years at college.

AHEAD are running a unique one-day event for students with a disability or specific learning difficulty considering their college options on 30th November in the National College of Art & Design, Thomas Street, Dublin 8.

For further information contact: Lorraine Gallagher: lorraine.gallagher@ahead.ie or check out AHEAD website!
Take 5
This series we realise Eddie's dream of being a chat show host with the new strand, 'Take 5'!
Throughout the series Eddie will meet some fascinating characters from the Irish and International Deaf community and find out more about their lives and achievements. But first, to put him on the right track and get some valuable chat show host tips - Eddie meets the one and only Ryan Tubridy, host of the longest running chat show in the world, 'The Late Late Show'! Ryan shows Eddie how to be a fabulous host, while telling all about his own TV career- this is not to be missed!
Behind the Scenes at RTÉ
Last, but not least, the Irish Deaf Community have made history! RTÉ is the first national channel to broadcast the news and weather in sign language. It is no mean feat being a news/weather presenter, as 'Hands On' finds out when we go behind the scenes at RTÉ. We see how presenters Caroline Worthington and Wendy Murray Jr. learn their lines, combat the nerves and get all glammed up in make-up in preparation for their live broadcast! Catch the next signed news and weather bulletins just before the Six One news on RTÉ One on Sundays.
The first episode of 10 episodes will be broadcast on Sunday 13th November at 12pm, on RTÉ One. Cancel your plans and check out Hands On this Sunday!
Some Useful Contacts
3rd Level Education
AHEAD
http://www.ahead.ie/
Address: AHEAD - Association for Higher Education Access & Disability,
East Hall, UCD, Carysfort Avenue, Blackrock, Co Dublin.
Phone: + 353 (0) 1 7164396
Email: ahead@ahead.ie
DARE
http://www.accesscollege.ie/dare/
DS3
http://www.ds3.ie/
By e-mail: ds3project@tcd.ie
By Text: 085 7768933
For more information about the supplementary forms then check out CAO
http://www.cao.ie/
To find out more about the wonderful Ryan Tubridy, check out:
http://www.rte.ie/tv/latelate/20090904.html

Watch the signed news and weather on RTÉ Player
http://www.rte.ie/player/#s=search&q=nuacht%20signed
http://www.rte.ie/player/#s=search&q=weather%20signed
We would like to say a big thank you to:
The Ormond Wine Bar
For more information on menus, prices and booking for private parties, check out: www.theormond.ie

Bright Lights & Interiors
www.brightlights.ie

IBAT College
www.ibat.ie