This Week - Sunday 13th February 2005. 10.05 am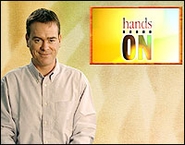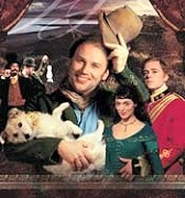 In this weeks fantastic programme we preview the forthcoming signed performance at the Abbey theatre. There is a very special interview with the extraordinary Mary Ann White. Journalist, John Craddon, lets us see what his week is like in his video diary. Molly & Mr. Milk join us again at the end of the show with another exciting adventure but first over to Senan...
News with Senan
On the 18th January the Irish Deaflympics team returned home triumphant. The swimmer carried a total of eleven medals six of them won by 33-year-old John Kealy. The Football team got through to the semi-finals and Packie Bonner was impressed by their work. For more information check out www.irishdeafsports.com
According to communications Minister Noel Dempsey, Deaf people could soon have their phone bills slashed as part of a strategy to make telecommunications more inclusive for the disabled. With text messages costing from 6c to 13c this means that Deaf people are paying out hundreds, even thousands, of Euro more than others for the same result.
A US school for the Deaf were amazed to find their state exam included questions asking them to match similar sounding words.
http://www.helpkidshear.org/news/media/2005/01-10-2005-wbal.htm
Finally, The IDS are organising a fund-raising trip to Peru this September. for more information check out... www.irishdeafsociety.ie

The Shaughraun
Kevin G Mulqueen tells us a little about the immensely popular play, The Shaughraun, as it returns to the Abbey for its second run. As well as some interpreted clips, Hands On are also giving you a chance to win two pairs of tickets to the signed performance of the Shaughraun on the 21st February. Remember to watch the show to find out how.
Mrs White
In November 2004, Deirdre Dunne met Mary Ann White to talk about her diagnosis with cervical cancer. In a very frank interview Mrs White talks about her initial symptoms, diagnosis and how she coped with it all. Three of her six children also talk about how their mothers diagnosis has affected their lives. Mrs White died three days after giving the interview.

Video Diary - John Craddon
John Craddon lets us into his world as a journalist for news company ŒBusiness World¹ in his very own video diary. We also see him in rehearsal for the Deaf Opera which was feature on the last programme of Hands On.

Molly and Mr Milk - J
Molly & Mr. Milk take another magical trip to Letter land and learn some new words. To win a T-shirt this week all you have to do is draw a picture Molly and Mr. Milk and send it to Hands On, 22A Fortescue Lane, Rathmines, Dublin 6.
CONTACTS
The Abbey Theatre
www.abbeytheatre.ie