The Best of Hands On Programme 5.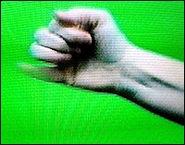 Say What
Throughout the programme Alvean Jones invites you to guess what unsuspecting members of the public are saying when we turn the tables and they cannot use their voices.
Video Diary
We have a video Diary from DCU student Sarah-Jane Maloney of a week in the college life of a Deaf student
Chatting with Teresa
Teresa Lynch is back with the ever popular "Chatting with Teresa". This week her Guest is John Bosco Conoma, one of the most well known Activists and academic in the Deaf community. John talks about his childhood and being the only Deaf child in a family of eleven.
Goodbye Alvean
We say goodbye to long time presenter Alvean Jones as she become a volunteer in The Gambia, Alvean tells us why she decided to go and we meet the head of the VSO, Voluntary services overseas, in Ireland to find out a little more about the programme.
Molly & Mr Milk (I)
Molly and Mr. Milk, Hands Ons animated series for children, is back with a brand new advenures as they continue their travels in letter land. This week our two explorers travel to the land of I, where Molly makes a new friend.