This Week - Sunday 12th March 2006.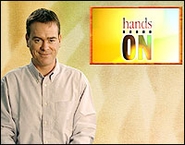 This week on Hands On, guest presenter Paul Etuh talks to a Deaf couple from the Czech Republic who have moved to Ireland in an attempt to find work and build better lives for themselves. Teresa chats with Kevin Mulqueen, who has become fully involved in the Deaf community, despite only discovering ISL the last 7 or 8 years. Sarah Jane and Caroline play Chinese Whispers at the National Museum and we have Senan with the world Deaf news. Last, but by no means least, old favourites Molly and Mr. Milk revisit the land of W!
Chinese Whispers
Sarah Jane and Caroline grab some volunteers and take over Collins Barracks for a game of Chinese Whispers!!
Eastern European Deaf
Karel Cerny & Libuse Cerná from the Czech Republic moved to Ireland two years ago. They talk to guest presenter, Paul Etuh, about the difficulties they faced when applying for work in Ireland and how they've been received by the Irish Deaf community.
Chatting with Teresa
This week Teresa meets Kevin Mulqueen, a young man who has only found his place within the Deaf community in the past 7 or 8 years. They chat about Kevin's experiences in both mainstream and Deaf schools and his decision to apply for the Fulbright scholarship. Kevin also discusses how his time in Gallaudet, and his study of American Sign Language, led to his interest in ISL and his decision to study at the Centre for Deaf Studies.
Cochlear Implants
Hands On are still looking for people with different views on Cochlear Implants than those expressed in our programme on February 26th. If you would like to share your opinion on the topic of Cochlear Implants, please contact us with your views.
Email: handson@mindthegapfilms.com
SMS: 086 1736131
Fax: 01 6624758
Tel: 01 6624742
News with Senan

Accreditation of Interpreters.
The first accreditation of Interpreters since 2000 will be held in June this year. 28 students have graduated from the Centre for Deaf Studies with diplomas in interpreting, since the last accreditation board met. Budding interpreters will have their skills assessed by a panel of experts and the successful ones will be registered. The aim is to have all interpreters working in Ireland go through the accreditation system thus improving the interpreting service for everyone.
http://www.iasli.ie/
Wales to get more Interpreters
The Welsh office has announced plans to train 36 interpreters and develop a post-graduate course for BSL interpreters. This in a country where there are estimated to be 3,000 Deaf people. The government has allocated £2.7 million for the scheme.
http://news.bbc.co.uk/2/hi/uk_news/wales/south_east/4680920.stm
Irish Director for the European Union of the Deaf
A hearing Irish woman, Mairead O Leary, has become the new director of the European Union of the Deaf.
Mairead has worked in Brussels since 1999 and is very familiar with the labyrinthine functioning of EU institutions, lobbying, public affairs and the multiple sources of funding available across the EU. When appointed she said "It is important that the progress made by the EUD to date be built on to ensure full citizenship for Deaf people throughout Europe. I can assure you of my commitment to this objective" She is open to suggestions from Deaf people across Europe on the best way to develop the EUD Secretariat.
http://www.eudnet.org/update/online/2006/jan06/eudn_01.htm
Hands On competition
We had lots of entries for our last DVD Competition. This week we have copies of "Kiss Kiss Bang Bang".

Name another famous film with Bang Bang in the title.

Text your answer to 086 173 6131 or Email your answer to handson@mindthegapfilms.com
SMS messages are charged at your usual network rate.
The winners will be picked at random and announced on the show. Remember you must include your name and age. Good Luck!
Molly and Mr. Milk. (Letter W)
This week Molly and Mr. Milk have another adventure, in the land of W. Molly makes water with her wand and Mr. Milk is transformed into a whale!
CONTACTS
Collins Barracks
www.museum.ie/decorative/findus.asp
National Museum of Ireland - Decorative Arts & History
Collins Barracks
Benburb Street
Dublin 7
The Chester Beatty Library
www.cbl.ie/
Dublin Castle,
Dublin 2,
Ireland
Tel: 01 407 0750
Fax: 01 407 0760
Email: info@cbl.ie
Centre for Deaf Studies
http://www.tcd.ie/Deaf_Studies/
1st Floor,
40 Lower Drumcondra Road,
Dublin 9
Tel: 01 8301252
Fax: 01 8301211
Email: cdsinfo@tcd.ie
Gallaudet University
http://www.gallaudet.edu/
Fulbright Scholarship
http://www.fulbright.ie/irish_awards_deaf_studies.php
Warner Brothers
www.warnerbros.com