This Week - Sunday 12th February 2006.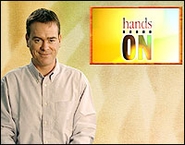 In this episode of Hands On we have a video diary from Gerry Hughes, the first Deaf man to sail singlehanded across the Atlantic. Kellie Keys goes to The Gambia to visit former presenter Alvean Jones. We also have Senan with the news and a brand new Molly and Mr. Milk for our younger viewers.
Gerry Hughes
In the summer of 2005, Scotsman Gerry Hughes became the first Deaf man to sail singlehanded across the Atlantic Ocean. Gerry's video diary chronicles his journey from Plymouth to Newport as he recounts the highs and lows of his amazing journey.
The Gambia
In December, Kellie Keys travelled to The Gambia to visit former Hands On presenter, Alvean Jones. Alvean has been living there for a year and works as a VSO volunteer in the Gambian Association of the Deaf and Hard of Hearing (GADHOH). In Kellie's video diary, we're introduced to some of the people who work for GADHOH and they tell us about the work they do for Deaf people in The Gambia. We also have a look at how Kellie and Alvean are enjoying their time in The Gambia!
News with Senan
New DVD: 'Signing Family' for Deaf parents of hearing children
The BDA in Northern Ireland has produced a DVD called "Signing Family" for Deaf parents of hearing children and hearing parents of Deaf Children. The DVD has been produced in both BSL and ISL and has chapters on Language Acquisition and Bilingualism. Parents of Deaf children share their personal experiences. It is hoped that the DVD will inspire people to use the Bilingual approach of Sign Language coupled with a written language. This recommended form of education is not used at primary level in N. Ireland or the Republic, although it is at the MSDP pre-school.

RNID Telephone Deafness Check
The world's largest telephone deafness check has been launched to help the four million people in the UK who are losing their hearing but doing nothing about it. The chief executive of the RNID, said more than half of those aged 60 and over have some hearing loss. "It can have a profound impact on our lives, leaving many of us feeling isolated and out of touch with family, friends and colleagues," he said. Callers are asked to listen to recordings of numbers played against a background noise. The caller uses the telephone keypad to select the digits they have heard. They are then told whether their hearing is within normal range, below normal or well below normal. If well below normal, callers are encouraged to contact their GP and ask for an audiology test.
http://news.bbc.co.uk/1/hi/health/4535660.stm
Robot converts spoken words into Sign Language
In Japan an 80-centimeter robotic hand that can convert spoken words and simple phrases into sign language has been developed. A microchip in the robot recognizes 50 characters and about 10 simple phrases such as "ohayo" (good morning) and sends the information to a computer, which sends commands to 18 micromotors in the joints of the robotic hand, translating the sound it hears into sign language.
http://www.yomiuri.co.jp/dy/features/culture/20060116TDY19003.htm
Deaf Ladies Football
St. Vincent's ladies football team have just returned from Germany where they defended their 2005 victory in the European 5-a-side tournament. Unfortunately they lost. They played against teams from Germany, Holland and Switzerland.
St. Vincent's ladies football team train every Sunday at St. Catherine's on Marrowbane lane and if you are interested in joining, contact them at 0877474439.

Cochlear Implant Seminar
The Irish Deaf Society has organised an open forum debate on Cochlear Implants in association with Beaumont hospital. The event will be held at the Irish Writers' Museum on Saturday 11th March, contact IDS for further details (contact information below).
We had some excellent entries for our 3G phone competition and a tie for first place, so videophones are on their way to Deirdre Byrne-Dunne & Paul Rafferty courtesy of Vodafone. The winning entries were:
Deirdre Byrne-Dunne - The most creative and best way to use the video phone to be able to show my Deaf son who's a boarder far way that we are near by signing on it 2 each other rather than unfriendly texts to lessen the frustration of missing home without visual access.
Paul Rafferty - With 3G video mobile you can go live, share which can express many thousand words, communicating with each other using ISL.
You can share more intimate moment with the people who matter. Show them how you feel or where you are if they can't be there.
Show how much you miss them; a video message will capture the moment.
This week we have copies of Tim Burton's "Corpse Bride" courtesy of Warner Brothers. To win a copy, answer this quesition:
Name the other film Tim Burton directed last year.
Text your answer to 086 173 6131 or Email your answer to handson@mindthegapfilms.com
The winners will be picked at random and announced on the show. Good Luck!
Molly and Mr. Milk. (Letter X)
Molly and Mr. Milk have a brand new adventure this week, in the land of X. Molly and Mr. Milk find a map and go digging for treasure!
To win a Molly and Mr. Milk T-shirt this week, all you have to do is draw a picture of a treasure map and send it, with your name, address and age, to:
Hands On
6 Wilton Place
Dublin 2.
CONTACTS
Voluntary Service Overseas (VSO)
http://www.vso.ie/
VSO Ireland
Carmichael Centre
Brunswick Street North
Dublin 7
T: +353 (0) 1872 7173
F: +353 (0) 1887 4458
E: info@vso.ie
Irish Deaf Society
http://www.deaf.ie/
Irish Deaf Society,
30 Blessington Street,
Dublin 7
E-mail: info@irishdeafsociety.ie,
Fax: 01 8601960,
Minicom: 01 8601910,
Telephone: 01 8601878
British Deaf Association (BDA)
http://www.learntosign.org.uk/
http://www.signcommunity.org.uk/
British Deaf Association
1-3 Worship Street
London
EC2A 2AB
Tel: 0870 770 3300
Text phone: 0800 652 2965
Royal National Institute for the Deaf (RNID)
www.rnid.org.uk
Information Line (Freephone)
Telephone: 0808 808 0123
Textphone: 0808 808 9000
Email: information@rnid.org.uk
RNID Head Office
19-23 Featherstone Street,
London EC1Y 8SL
Telephone: 020 7296 8000
Textphone: 020 7296 8001
Fax: 020 7296 8199
Vodafone
www.vodafone.ie
Warner Brothers
www.warnerbros.com