Hands On! - 11 Dec 2011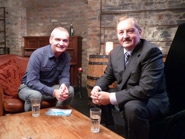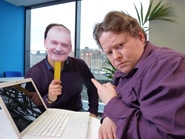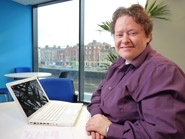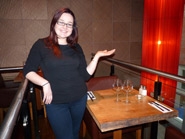 A lie in on Sunday morning will have to be put on hold till the end of the Hands On series as you don't want to miss our exciting programmes!
This week's Hands On, on RTE One at 11.55am, is going to be great -it's also your last Hands On fix before Christmas - but don't worry we will be back on January 8th!!

Deaf Restaurant
This week Hands On takes over the busy Cactus Jack's restaurant in Dublin City Centre and turns it 'Deaf for a Day'. Deaf waiters are taking the orders and Irish Sign Language becomes the first language of both staff and customers - whether they know any signs or not! The menus are transformed to include pictures of the Irish Sign Language for different food and drinks, hearing guests are given noise-cancelling headsets and are challenged to place their orders and communicate with their waiters entirely in Irish Sign Language!

Caroline McGrotty sees how hearing customers react to a crash-course in Deaf culture and what its like for Deaf customers to order their food without the hassles of miscommunication!

Tony McEllhatton
On Wednesday 27th July, Tony McEllhatton delivered his final News bulletin on Signed News for the Deaf on RTE after 19 years. Eddie Redmond finds out about how Tony went from being a carpenter to a News presenter, the first to bring sign language to the national audience in Ireland. We also learn more about Tony's fascinating life, his involvement in the set up of what is now IDS and how he has travelled the country, teaching ISL and raising awareness about the Deaf community. Tony also kindly shares some tips on how to stay looking young!

Hacking
The internet is a great resource but of course using it has its risks! We highlight some of the online scams that maybe specifically targeting Deaf people and talk to one Deaf woman who lost money to online scammers. Alvean Jones investigates the recent problem of Facebook cloning that is plaguing the Irish Deaf Community and has some useful advice about how to stay safe online.

For even more tips about staying safe online, check out our vlog, delivered in ISL. Watch this space as we are adding the final touches!

Hands On would like to thank:
Cactus Jack's, for giving over their delicious restaurant for our Deaf Dining project!
www.cactusjacks.ie
IBAT College
www.ibat.ie
The Ormond Wine Bar
For more information on menus, prices and booking for private parties, check out: www.theormond.ie
Bright Lights & Interiors
www.brightlights.ie