This week - 11 November 2007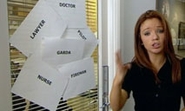 Sarah Jane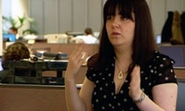 Lianne
Tune in this Sunday for the Hands On Employment special! In this programme we see that, despite obstacles, Deaf people can do almost any job. Sarah Jane talks to John Bosco Conama who talks about the challenges that have faced Deaf people seeking employment in the past and what needs to change to make work more accessible in the future.
We look at the WAM (Willing Able Mentoring) project run by AHEAD and one of its success story's, Lianne Quigley, who now has a great job with Bank of Ireland. We meet Vincent McArdle who, through encouragement and support from family and teachers, is doing really well in his Civil Engineering course in UCD and compare that with Michael Moloney's past experience, where schools gave Deaf students little or no information about employment.
Sarah Jane gives us a run down on what employment services are available from FÁS, such as interpreter job interview grants, workplace equipment adaption grants and Deaf awareness training and tells you what you need to do to access them.
We also meet Geoffrey McCormack who has had two career goals in his life and has achieved them both! - working as an accountant in a hearing environment and a teacher in St Mary's School for Deaf Girls.
Finally, Ronan Dunne has some great employment tips on everything from interview skills to CV preparation.
If you're in the market for a new job or thinking about a career change, this is the programme for you! Don't miss it this Sunday at 10:45am on RTÉ One!
Workplace Equipment Adaptation Grant (WEAG)
If you are a disabled person who has been offered employment or are in employment, and require a more accessible workplace or adapted equipment to do your job, you or your employer may be able to get a grant from FÁS towards the costs of adapting premises or equipment. Click here for more

Job Interview Interpreter Grant
If you are a jobseeker who is deaf, hard of hearing and are attending job interviews, you may apply for funding to have a sign language interpreter or other interpreter to attend the interview with you. Funding can also be provided to cover the costs of an interpreter during an induction period when you start work. Click here for more

Disability Awareness Training Support Scheme
Training People to be More Aware
Many people are unsure of how to respond to someone with a disability and are self conscious about the language they use. They are concerned about using the wrong words and inadvertently causing offence, or being unable to cope with a situation because of lack of knowledge about the appropriate etiquette when working with people with disabilities.
Disability awareness training is designed to ensure that staff provide the best service to customers/clients with disabilities and that managers and other employees maximize their working relationships with colleagues with disabilities. Click here for more

AHEAD (Association for Higher Education Access and Disability)
http://www.aheadweb.org/home/pages
WAM (Willing Able Mentoring)
http://www.aheadweb.org/home/pages/category/wam
WORK4U
http://www.work4u.ie/
Employ Ability
http://www.employability.ie/
Dublin Castle
www.dublincastle.ie/
University Collage Dublin
www.ucd.ie/