This week - 11th May 2008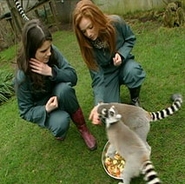 SJ & Caroline at the zoo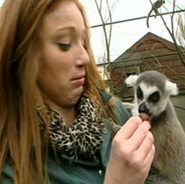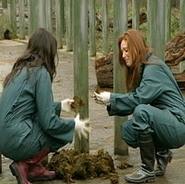 Click here to watch previous episodes...
Short Film Competition
Don't forget to click here for details on how to enter our Short Film Competition...
Tune in this Sunday RTE One at 10.45am another great "Best Of" Hands On!
This week we'll bring you an update on our report on the UK's Human Fertilisation and Embryology Bill which is causing massive controversy all over the world, we take another trip to Cork to meet Deaf Drama Group Spirit of Sign and you get to see Sarah Jane and Caroline shoveling dung at Dublin Zoo. We also have another great Molly and Mr. Milk.
SJ & Caroline at the Zoo
Sean gives Sarah Jane and Caroline their toughest challenge yet! A visit to the Zoo, only this time - they're working there! Sean gives them 60 mins to complete various Zoo Keeping tasks like feeding live worms to the Abyssinian ground Hornbills, looking through Rhino dung, cleaning the elephants and feeding the Lemurs! They're punishment for not completing the task is spending the night in the Zoo so they'd better hurry! Tune in on Sunday to see if they'll pass the task!
Human Fertilisation & Embryology Bill
Deirdre Byrne Dunne looks into a controversial new UK Bill which could have a massive impact on the future of the Deaf community. The Bill called The Human Fertilisation and Embryology Bill is currently being debated in the Houses of Parliament and, if passed, will have implications for Deaf couples going through IVF and Deaf people who wish to become egg or sperm donors. The Bill has prompted outrage in the Deaf community worldwide and the launch of the Stop Eugenics campaign by those who believe that the Bill, in it's current form could lead to the eradication of the Deaf community.
Deirdre finds out the truth behind the sensational media coverage and if the Bill has any implications for Ireland. She meets Professor Robert Harrison from Human Assisted Reproduction Ireland (HARI) who explains what IVF is and the current situation in Ireland. Professor Andrew Green from the National Centre for Medical Genetics explains what the Bill will mean for Deaf couples going through IVF both in the UK and Ireland and about genetic testing of embryos produced through IVF. John Bosco Conama gives us his views on the social impact of the Bill, and how it is likely to impact people's attitudes towards the Deaf community
Since we first showed this item, the Bill has moved from the House of Lords to the House of Commons where it is still under consideration, but the media debate has really heated up, with Deaf couple Tomato Lichy and his partner Paula appearing on BBC News and in countless international radio programmes and newspaper articles, claiming that Clause 14 is discriminatory. The media attention has even caused the Vatican to include embryo destruction on a new list of mortal sins. We'll bring you an update next series.
Spirit of Sign
Spirit of Sign is an Deaf Drama group based in Cork that was established in 2006. They already have a theatre performance and 3 short films under their belt and we catch up with them as their busy in rehearsals for their new production 'Down through the yEars' which is being performed in Cork's Granary Theatre from May 21st for 4 nights. We meet Robert Quinlan the groups Co-ordinator, Director Donal Gallagher and group member Angela Dennehy who tell us all about it.

You can book tickets by Text on : 0876443765