This Week - Sunday 9th October 2005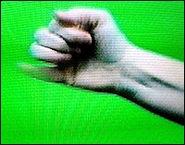 Hands On is back! In our first programme of the series Sarah-Jane challenges 5 viewers to change the habits of a lifetime, by taking up regular exercise and changing the way they eat with the help of dietician, Margot Brennan. Over the course of the series we will follow our volunteers as they work out and shape up. We visit the Deaf Needs Assessment summer school in Trinity College and we also have the News with Senan. Younger viewers will be delighted to see the return of Molly and Mr. Milk, Hands On's animated series for children, as they continue their travels in letter land. This week they travel to the land of K where they fly a Kite to Australia and meet up with bouncy Kangaroos.
News with Senan
In the US, Gallaudet University in Washington D.C. and the National Technical Institute for the Deaf in Rochester have opened their doors to Deaf students affected by Hurricane Katrina.
The hurricane posed many problems for Deaf and hard of hearing residents in the Gulf region. Some received no advance warning and miscommunication was a common problem for those who were rescued.
http://news.gallaudet.edu/article.asp?ID=5665
Here in Ireland, Belfast City Airport has installed a new radio-based fire alarm warning and messaging system for Deaf and hard of hearing passengers and staff. The Deaf Alerter system has been installed to comply with the Disability Discrimination Act.
In July, the Austrian Parliament voted for the recognition of Austrian Sign Language. A celebration will take place in Vienna in October 2005. The Austrian Deaf Association launched the turqoise ribbon campaign as a symbol of Deaf power and respect for Sign Language in winter 2004.
www.eudnet.org/update/online/2005/jun05/eudm_01.htm
Two important dates for your diary - the IDS National Congress will take place in Cork on October 22nd, this years theme is Technology and the Deaf. Also the 15th of December is the deadline for submission to the commission on child abuse. Remember Beechpark has been included.
Health and Fitness
Anna Louise McAllister, Julianne Gillen, Sarah Corr, Wendy Murray Jr. and Melissa Howlett all have different reasons for taking part in our Health and Fitness story. Anna wants to be a slim bridesmaid for her mother's wedding, Julianne wants to lose some weight following the birth of her daughter, Sarah wants to look great in a bikini when she visits her brother in California and Wendy and Melissa would love to be fit and healthy, hopefully losing a few pounds in the process!
This week they meet a dietician, Margot Brennan, who analyses their diets and gives them some tips on how to eat more healthily. Then it's off to the gym where Sarah Jane Moloney gives them a gruelling workout!
We'll be following the girls throughout this series to see how their new diets and exercise plans are working. Will they lose those unwanted pounds? Keep watching to find out!
DNA
This summer, Trinity College Dublin hosted a Deaf Needs Assessment summer school for those entering third level education. Issues such as the obstacles that face Deaf students at third level were discussed, as were the various student supports that are available to help overcome these obstacles.
Molly and Mr Milk - K
In this brand new episode, Molly & Mr Milk pay a visit to the land of K. They fly to Australia on a kite and meet a kangaroo. To win a T-shirt this week all you have to do is draw a picture of a kangaroo and send it to Hands On, 6 Wilton Place, Dublin 2.
CONTACTS
The Commission to Enquire into Child Abuse
http://www.childabusecommission.ie/
The Commission To Inquire Into Child Abuse,
Floor 2,
St. Stephen's Green House,
Earlsfort Terrace,
Dublin 2,
Ireland.
Tel No:(01) 662 4444,
Callsave No:(Republic of Ireland),
Lo-Call No:0845 3098 139 (N.I. and U.K.)
Email: info@cica.ie
Deaf Alerter
http://www.deaf-alerter.com/website.htm
Deaf Alerter plc,
Enfield House
303 Burton Road,
Derby,
DE23 6AG
Tel: +44 (0)1332 363981
Fax: +44 (0)1332 293267
Minicom: +44 (0)1332 291921
Belfast City Airport
http://www.belfastcityairport.com/home.asp
Belfast City Airport
Belfast BT3 9JH
Northern Ireland
Tel 028 9093 9093
Fax 028 9093 9094
Email info@belfastcityairport.com
IDS Congress
http://www.irishdeafsociety.ie/home/News%20Date/08-09-05%20IDS%205th%20National%20Congress.htm
DNA
http://www.tcd.ie/disability/projects/dna/
Irish Nutrition and Dietetic Institute
http://www.indi.ie/
Jackie Skelly Fitness
http://www.jackieskellyfitness.com/