This Week - 9th April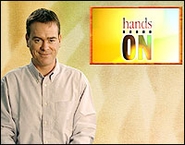 This week Hands On travels to Belfast to catch up with two sporting successes: Jamie Wilson, a UEFA A qualified coach, and David Hobson, a motocross champion. And to celebrate the 25th Anniversary of the Irish Deaf Society, Eddie Redmond sends Sarah Jane and Caroline back to 1981 to see if they can survive for 24 hours without 21st century technology! We also have Senan with the news and Molly and Mr. Milk visit the land of Y!
Motocross

David Hobson, a Deaf motocross biker from Lisburn, started biking seven years ago when he was 21. Since then he has won the Northern Ireland Motocross Championship and was runner-up in the All Ireland Championship. Eddie Redmond met with David at the Longshot MX track in Lisburn where David shows off his biking skills and tells Eddie about his passion for the sport.
24 Hours without Technology

To mark the 25th Anniversary of the Irish Deaf Society, Hands On decided to set presenters Sarah Jane Moloney and Caroline Worthington a little challenge! We decided to send the girls back to 1981 to see if they could survive without the 21st century technology that they¹re accustomed to. Eddie Redmond was on hand to confiscate their mobile phones and set the girls some rules!
News with Senan

Railway staff learn sign language
Rail staff across Scotland have returned to the classroom to learn sign language and help Deaf passengers.
Pupils attending the voluntary scheme include train drivers, ticket collectors and administrative staff. Steven Bell, a train driver with more than 17 years experience, is taking part in sign lanugage training. He said: "Deaf people can become frustrated when seeking help thruogh no fault of their own. I think it is important to help all customers so they can enjoy a safe journey"
Passenger Focus, the consumer body that represents rail passengers, welcomed the initiative. Robert Samson, its passenger link manager, said: "The initiative will make rail travel more attractive and hassle free for people who are Deaf or hard of hearing"
http://news.bbc.co.uk/2/hi/uk_news/scotland/4754684.stm
Northern Ireland Deaf Organisation launches Centenary Celebrations
'FP' (Fisherwick Place) the landmark Georgian building , that was home to many young deaf people who came to Belfast for school, work and to socialise celbrates its centenary this year. Originally called the Mission Hall for the "Adult Deaf & Dumb of Belfast" it became the centre of activity for the local deaf community, spearheaded by Francis Maginn.
There's lots planned, an exhibition on Francis Maginn; sporting events; a reunion for former residents; a film and lots of other events.
For further information on the centenary events, or if you would like to get involved, please contact RNID on Telephone/Textphone: 028 9023 9619, fax: 028 9031 2032 or email: claire.mullan@rnid.org.uk
Doctors training in sign language
Junior doctors in Northern Ireland are being trained in sign language so they can communicate with the deaf. A specialist course is being offered during their medical training at Queen's University in Belfast.
The course, which also includes training in deaf awareness, is being run in association with the Royal National Institute for the Deaf. The students will produce a sign language dictionary ontopics from thyroid disease to pregnancy.
Since 2003, 60 students have successfully completed the course at Queen's. The sign language dictionary, which they produce for health professionals, will deal with common ailments. Each year, the sudents add new chapters to the dictionary as part of their coursework and the students themselves take photographs for the dictionary to illustrate the signs.
http://news.bbc.co.uk/2/hi/uk_news/northern_ireland/4799464.stm
DVD Competition

This week we have copies of "Harry Potter and the Goblet of Fire" to give away, just answer this question:
What is the name of the school Harry Potter attends?
Text your answer to 086 173 6131
or
Email your answer to handson@mindthegapfilms.com
SMS messages are charged at your usual network rate.
The winners will be picked at random and announced on the show. Remember you must include your name and age. Good luck!
Congratulations to the winners of our previous DVD competitions, DVDs are on their way to you:
Bernice Ryan
Elizabeth Breheny
Donna Fee
Elizabeth Kelly
Lisa Carroll
Geraldine Fitzgerald
UEFA Coach

Jamie Wilson is a ŒUEFA A¹ qualified coach living in Belfast. He coaches both hearing and Deaf football teams on both sides of the border. Eddie Redmond met him in Ormeau Park, during a training session with the Belfast Deaf team, to ask him how and why he became a UEFA coach.
Molly and Mr. Milk. (Letter Y)

This week Molly and Mr. Milk visit the land of Y where they meet some cows and paint them yellow!
CONTACTS
Belfast Deaf United FC
www.web-teams.co.uk/belfastdeafunited/
Cocoon
www.cocoon.ie
Duke Lane,
Dublin 2
Email: office@cocoon.ie
Tel: 00-353-1 6796259
Fax: 00-353-1-6796540
Dundela FC
http://www.dundelafc.co.uk/
Irish Deaf Society (IDS)
www.irishdeafsociety.ie
30 Blessington Street,
Dublin 7
Minicom: 00353 1 860 1910
Fax: 00353 1 860 1960
Tel: 00353 1 860 1878
Motocross Track
http://www.longshotracing.co.uk/
Longshot Racing,
Camp Lodge
61 Blaris Road,
Sprucefield,
Lisburn
Co. Antrim
Tel: +44 7753409737
Email: harry@longshotracing.co.uk
Motorcycling Ireland
http://www.motorcycling-ireland.com/motocross.htm
Queen's University Belfast
www.qub.ac.uk/
Royal National Institue of the Deaf (RNID)
www.rnid.org.uk
19-23 Featherstone Street,
London EC1Y 8SL
Tel: 0808 808 0123
Text: 0808 808 9000
Email: informationline@rnid.org.uk
Ulster Motocross
www.leaguelineup.com/nimotocross/
UEFA
www.uefa.com
Warner Brothers
www.warnerbros.com