This Week - 8th October 2006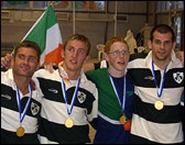 Swimming Champions Day 7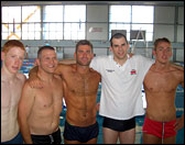 Swimming Champions Day 2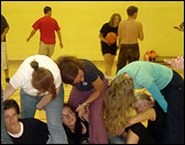 EUDY Camp
Welcome back to a brand new series of Hands On! We've got an exciting new episode to kick-start the series - this week Caroline meets the Irish Deaf swimming team fresh from their sporting success at the European Deaf Swimming Championships; Sean Herlihy takes us to the European Union of the Deaf Youth Camp, which was hosted by the IDYA this summer and we've got some great stories, hints and tips from five globe-trotters who've just returned from jet-setting around the world! Senan is back with a roundup of the news and information on how you can become the new Hands On presenter! And a surprise for our younger viewers this week as we have two episodes of Molly & Mr. Milk!
Swimming Champions
In June, the Irish Deaf Swimming Team - Alan Turner, Eoin Nolan, David McIlroy, John Kealy and Vincent McArdle flew to Thessaloniki for the 9th European Deaf Swimming Championship. They returned home with an incredible 9 gold medals, 1 silver and 3 bronze. Caroline Worthington meets three members of the extraordinary team!
EUDY Camp
This August over 100 young people from 26 different countries landed in Dublin to take part in the European Union of the Deaf Youth Camp, which was hosted by the Irish Deaf Youth Association. Sean reports from the camp and meets some of the people who attended to ask what they thought of the whole experience!
World Travel Guide
Five young globe-trotters - who have recently returned from exciting trips that saw them visit everywhere from Cambodia, Vietnam and Thailand to Australia, South America and Scandinavia - share some of their travel experiences with us and give some great travel hints and tips - a handy guide for anyone thinking about jetting off themselves.
News with Senan

British Lottery Award
The Deaf Association of Northern Ireland has been awarded funding from the British Lottery to document the history of Deaf people in Northern Ireland. The funding will go towards collecting, recording, cataloguing and preserving the history, experiences and memories of Deaf people since the 1890s. A DVD will be produced to help people to understand the life and challenges faced by Deaf people in years gone by.

An exciting time for Deaf youth in Scotland
The Scottish Deaf Association (SDA) has received funding from the Lottery's Young People's Fund for a new project to support young Deaf people in Scotland. The project, to be known as Scottish Deaf Youth Association (SDYA) provides services and support to young people, and also aims to tackle the acute shortage of qualified Deaf youth workers in Scotland. SDYA will train up to 20 youth workers which will ensure a productive and effective youth-led project, with good Deaf role models for younger Deaf people.

New Sign Language television in Denmark
After many years of lobbying by the Danish Deaf Association daily news programmes in Sign Language have been launched on digital TV in Denmark. The DDA used examples of countries that have News with Sign Language translation, such as Ireland and the UK, to assist them with their lobbying.

World Flight Ends
Johan Hammarström, of Sweden, aged 29 became the first Deaf pilot to fly around the world in a light aircraft. His 40,000-mile, 40-country world tour began in March and ended in September. He stopped along the way to speak at organizations and schools for the Deaf and hard of hearing. Hammarström, had to battle civil aviation authorities for years to complete his pilot training. "I believe that I could contribute to changing attitudes toward Deaf people," he said.
DVD Competition
This week Warner Brothers have given us subtitled DVDs of the Bruce Willis film "16 Blocks". To win a copy, answer this question:
Name the film where Bruce Willis plays New York cop John McClane?
Text your answer to 086 173 6131
or
Email your answer to handson@mindthegapfilms.com
SMS messages are charged at your usual network rate.
The winners will be picked at random and announced on the show. Remember, y o u m u s t i n c l u d e y o u r n a m e a n d a g e . G o o d L u c k!
Molly and Mr. Milk. (Letter D & E)
This week we get to meet Molly and Mr. Milk twice! Once in the land of D where they find a scary Dragon and once in the land of E where they play with some Elephants and Mr. Milk gets egg on his head!
CONTACTS
Swimming Champions
Irish Deaf Sports Association
http://www.irishdeafsports.com/
40 Lower Drumcondra Road,
Drumcondra,
Dublin 9
Email: info@irishdeafsports.com
Fax: 01 8500499
Mobile(Secretary): 0876800768
9th European Deaf Swimming Championships
http://www.2006eurodeafswim.gr/
National Aquatic Centre
www.nac.ie
Snugborough Road,
Blanchardstown
Dublin 15
Tel: 01 6464300
Email: info@nac.ie
Swimmers Blog
http://idsathessaloniki.blogspot.com/
EUDY Camp
European Union of the Deaf Youth (EUDY)
www.eudy.info
C/O Irish Deaf Youth Association
30 Blessington Street
Dublin 7. Ireland
Email: info@eudy.info
Fax: +353 1 8601960
Irish Deaf Youth Association (IDYA)
www.irishdeafyouth.com
www.idyablog.com
30 Blessington Street,
Dublin 7
Fax: 353 1 8601960
Tel: 353 1 8601878
Minicom: 353 1 8601910
SMS: 085 7374734
Email: info@irishdeafyouth.com
World Travel Guide
http://www.deaftravel.co.uk/
News
Scottish Deaf Youth Association
Helga McGilp, SDA Director
Voice: 0141 248 5554
Text: 0141 248 5567
Fax: 0141 248 5565
Email: helgam@bda.org.uk
Deaf Pilot - Johan Hammarstrom
www.worldflightforhearing.com
Warner Brothers
www.warnerbros.com