Hands On - 8 Jan 2012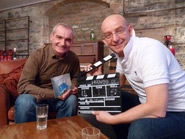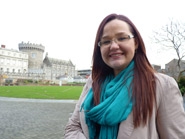 Hands On is back! Tune in this Sunday, 8th January, at 12.15pm on RTÉ One
Happy New Year! We hope everyone had a very festive and indulgent Christmas! We're now back for the second half of this exciting Hands On series- make a note in your diary because Hands On is on every Sunday till February! Make sure to stay tuned!
For the Irish Sign Language promo please click here...
Causey Farm
Does the thought of being on a farm bring images of green grass, grazing animals and fresh air or does the thought of mud fill you with dread? Hands On takes over Causey Farm, where Caroline Worthington and Ronan Dunne challenge Brigid O'Connor and Robert Young to see how they cope with some simple farmyard tasks for a day. Who will win the Hands On Farm Challenge? Place your bets now!
Take 5- Ramon Woolfe
Eddie Redmond is back after the Christmas break with his very popular chat show, Take 5! Today's guest is the award winner director Ramon Woolfe. Eddie probes Ramon about the secrets of his success and finds out how Ramon went from being a presenter on See Hear to a director for many programmes, including Hands On! We also hear of how Ramon pulled through his battle with colon cancer and more about his campaign to raise awareness within the Deaf community.
How to complain using the Equality Acts
Deaf people often find they don't have the same access as hearing people - imagine going to a doctor's appointment to find that an interpreter has not been booked- it is enough to make anyone's blood boil! Instead of going home and complaining about it, why not make a new year's resolution to take a stand and make a formal complaint - the law is on your side! Caroline McGrotty explains the Equality Act and how you can go about making an official complaint about unfair treatment.
For advice and support contact the following organisations and they will support you:
Deaforward at the Irish Deaf Society
www.irishdeafsociety.ie
Deaf Hear
www.deafhear.ie
Kerry Deaf Resource Centre
www.kerrydeaf.com
If you want to find out more about the Equality Act and the Equality Tribunal then check out:
www.equality.ie
Hands On would like to thank:
Causey Farm for allowing us to take over their farm for the day. If you think it looks like fun, remember they also take bookings for private parties! Check it out at www.causey.ie!
The Ormond Wine Bar
For more information on menus, prices and booking for private parties, check out: www.theormond.ie
Bright Lights & Interiors
www.brightlights.ie