This Week - Sunday 6th November 2005.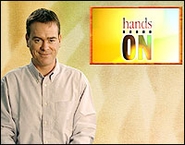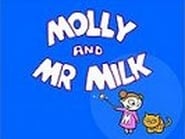 This week our dieters face the ultimate challenge! They step up on the scales for the first time since they began their diet and exercise plan, and there are some unexpected results!
Teresa meets Hands On veteran, Josephine O'Leary and Caroline checks out the Charity shops to see if she can find some fashion bargains. We also have News with Senan and Molly and Mr. Milk visit the land of G!
News with Senan
In the UK, a Brand New BSL Logo has just been launched.
It features "hands" to show that access is available through BSL.
Doug Alker, the BDA Chairperson says, "It means that hearing people who can use BSL will be able to advertise their skills, rather than focusing on the fact that Deaf people cannot hear. It will also promote BSL as a language, and hopefully encourage more people to think about learning to sign." Click this link to get an electronic copy of the new logo that you can print out yourself.
http://www.learntosign.org.uk/news/friday_bda-well.htm
The BDA has also launched a new video relay service centre. BSL users connect a videophone to an Internet connection to communicate with a live video interpreter, who voices to the hearing person using a standard telephone.

The video interpreter then signs the telephone conversation with the BSL user. A web cam and a computer can also be used to access this service. Doug Alker said the service "will be Deaf led and owned, with all profits retained in the Deaf community."
http://www.learntosign.org.uk/news/monday_bda-csd-vrs.htm
Here at home Eircom and the equipment company Plantronics, will provide 10,000 telephones for the Hard of Hearing. The system has an extremely loud ring tone and oversized buttons, as well as a visual ring indicator. The retail price is normally EUR64.95.
http://www.enn.ie/news.html?code=9648077
www.plantroncis.com
www.eircom.ie
RTE has employed a third person in their in-house subtitles department which should improve efficiency and they have more subs on RTE Two, they also say that we should see a marked increase in subbed output between now and Christmas.
www.rte.ie
The European Union of the Deaf celebrates its 20th anniversary this year at the first European and Mediterranean Deaf Summit on 11-12 November 2005 in Montpellier, France. Entrance to the event is free.
http://www.eudnet.org/info_20.htm

Health and Fitness
This week our dieters face their toughest challenge yet - a weigh-in! Sarah Jane Moloney gets all the girls on the scales for the first time since they began their diet and exercise programmes. We'll see who's been sticking to the programme, and who hasn't!
Teresa's Column
Teresa Lynch meets Josephine O'Leary at Farmleigh House in the Phoenix Park. They discuss Josephine's numerous roles within the Deaf community, from her work on Sign of the Times, to her involvement in the Dublin Deaf Theatre. She also talks about becoming Deaf as a child, meeting her husband Patrick O' Leary, and how she must care for him since his stroke, ten years ago.
Charity Fashion
Caroline Worthington checks out Dublin's Charity shops to see if she can get put together some great outfits on a budget!
Molly and Mr Milk - G
Molly & Mr Milk have another adventure in the land of G. They meet a Giraffe and Mr. Milk has a run in with a Gorilla!
CONTACTS
Farmleigh
www.farmleigh.ie
Farmleigh,
Castleknock,
Dublin 15
Tel: 01 8155900
Email: farmleighinfo@opw.ie
British Deaf Association
http://www.learntosign.org.uk/
http://www.signcommunity.org.uk/
British Deaf Association
1-3 Worship Street
London
EC2A 2AB
Tel: 0870 770 3300
Text phone: 0800 652 2965
Royal National Institute for the Deaf
www.rnid.org.uk
Information Line (Freephone)
Telephone: 0808 808 0123
Textphone: 0808 808 9000
Email: information@rnid.org.uk
RNID Head Office
19-23 Featherstone Street,
London EC1Y 8SL
Telephone: 020 7296 8000
Textphone: 020 7296 8001
Fax: 020 7296 8199
Health and Fitness
www.jackieskellyfitness.com
Park West
The Plaza,
Park West Business Park,
Nangor Road,
Dublin 12
Tel: 01 630 1456
Fax: 01 630 1473
Email: parkwest@jackieskellyfitness.com
Charity Fashion
Barnardos
206 Lwr. Rathmines Road,
Rathmines,
Dublin 6.
Tel: 4974717
Enable Ireland
8 South Great George's St.,
Dublin 2
Tel: 4782763
Enable Ireland
28 Lwr. Camden St.,
Dublin 2.
Tel: 4780647
Irish Cancer Society,
69 Lwr Camden St.
Dublin 2
Tel: 4750811
Oxfam,
Unit 2,
Wicklow House,
George's St.,
Dublin 2
Tel: 4780777
Oxfam,
204 Rathmines Road,
Dublin 6.
Tel: 4964181
Wa Wa,
121 Ranelagh Rd.
Tel: 4965908