Sunday 5th December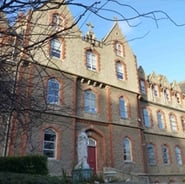 St Josephs, Cabra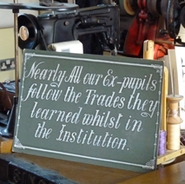 Hands On this week, Sunday 5th December, 12pm on RTÉ1
This week Hands On presents a fascinating feature dedicated to Deaf history and in particular the role St Joseph's School for Deaf Boys in Cabra played in the development of the Irish Deaf community. We also visit the Deaf Heritage Centre, on the grounds of St Joseph's, which has been collecting and preserving important teaching materials, stories, film footage and photos of the school's 150 years - from its establishment in 1856 to its closure in 2006.
As an exciting new era in the Deaf community dawns with the upcoming building of the new Deaf Village Centre on the old site of St Joseph's in 2011, we look back at the school's foundation by the Catholic Church in the midst of the Famine and how this institution would hold a significant place in the Deaf community for generations to come.
A number of past pupils share their memories - both positive and negative - of being taught through sign but also through the controversial oralism method; of learning trades like tailoring and shoemaking and going on to set up their own businesses; of important visits to the school by dignitaries like then Taoiseach Éamon de Valera and Archbishop McQuaid; of surviving on meagre rations during WWII and being shepherded into the basement after a bomb scare in Phoenix Park.
The founders of the Deaf Heritage Centre present fascinating stories about the school's early history - the daily lives of students in the late 1800s, the impact of the 1880 "International Congress on the Education of Deaf-Mutes" on teaching methods in the school, the beautifully illustrated teaching charts drawn by past pupil Thomas Mahon in the 1880s which played a significant role in teaching methods for decades - and all are brought to life through a wealth of archive footage and photos.
The DHC's founders also emphasise the importance of maintaining and preserving this heritage for future generations and urge members of the community to share their own stories, photo or film collections, and old school materials with the Centre.
The programme will be repeated on Saturday 11th December at 9.40am on RTÉ1.

Also of interest is St Mary's Heritage group which was formed to preserve the history of Irish Deaf women who attended St Mary's school in Cabra. This group continues to grow and is gathering material all the time.
If you have stories or materials to share, or would like more information, check out their Facebook page or email stmarysheritage@gmail.com. Text number: 0872400983
Deaf Heritage Centre
(St Joseph's Grounds)
Cabra, Dublin 7
www.deafheritage.ie
Email: deafheritagecentre@eircom.net
Phone (text only): 086 8567214
St Joseph's School for boys, Cabra
www.stjosephsboys.ie
Information: (01) 838 0058
Fax: (01) 838 0230
E-mail: stjosephscabra@eircom.net
St Mary's School for Deaf Girls
Dominican Convent,
Cabra, Dublin 7
www.stmarysdeafgirls.ie
Office: 01 8385359/8386064
Fax: 01 8387943
Email: info@stmarysdeafgirls.ie
St Dominic's College
Ratoath Road
Cabra, Dublin 7
www.stdominics.ie
Phone: (01) 8385282
Fax: (01) 8683003
E-Mail: info@stdominics.ie