This Week - 5th November 2006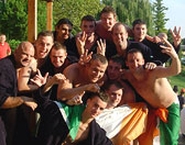 Waterpolo team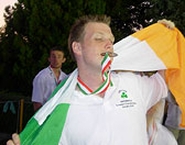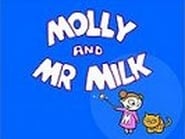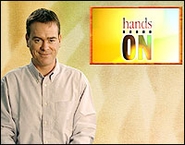 This week on Hands On, Paul Ryder and the rest of the Deaf Water polo team bring us a video diary from the European Deaf Water Polo Championships in Hungary, Sean Herlihy gets his car clamped and Teresa Lynch visits St. Joseph's House for Adult Deaf and Deafblind. We also have our usual favourites: News and Molly & Mr. Milk. Enjoy!!
Water Polo
In September the Irish Deaf Water Polo team became the first Irish team, Deaf or hearing to win a medal in a European Water Polo Championship when they travelled to Vac in Hungary to represent Ireland. Luckily, Paul brought a camera along with him and captured everything - the good, the bad and the ugly.!
Car Clamping
When Sean Herlihy's car is clamped, he finds out from the clamping notice that a text number has been set up to assist Deaf people with getting unclamped - great, a simple solution! Or is it? He meets Kevin Stanley from the Irish Deaf Society (IDS) and Niall Delaney from Dublin Street Parking Services (DSPS) to find out about the text service, and to see if it works.
St. Joseph's House
It's the 40th anniversary of the foundation of St. Joseph's House for Adult Deaf and Deafblind in Stillorgan. To celebrate this, Teresa pays a visit and chats with the residents and staff.
Molly and Mr. Milk. (Letter F)
Molly and Mr. Milk find themselves in deep water this week as they meet a fish and a frog!!
News with Senan
The Student Congress at Gallaudet University passed a motion last week to not recognize Jane Fernandes as the 9th president of the university. Fernandes was appointed in May to succeed I. King Jordan when he retires on December 31. Students have resurrected the Tent City made famous 20 years ago in the fight for a Deaf president for the university, on the front lawn of the Washington, D.C. campus this week. The protest is being covered by a number of bloggers and a good site for a quick overview is www.deafread.com.
Since this programme was filmed, the Gallaudet Board of Trustees has voted to revoke Jane Fernandes' presidency. We'll have an update on Hands On in two weeks time.
Two Deaf ringleaders who forced Deaf Mexicans to live as slaves in New York City were finally sentenced to 13 years imprisonment. The judge ordered that they serve their sentences in Texas at a prison that has services for the Deaf. Twenty Deaf victims came to court to witness the sentencing and 10 told the judge of their experiences. "We were slaves and we have nothing to show for it," said one young victim.
http://www.nysun.com/article/40556
A hard-of-hearing U.K. athletics star has secured a £3,000 sponsorship deal from a company called House of Hearing which provides the young runner with hearing aids. 17 year old Lauren Peffers is five times Scottish 1500m champion in her age group. She wears hearing aids when she races but cannot hear the starting gun, taking her cue from other runners and putting her at a disadvantage. She plans to use the money to travel to events around the world, and her goal is to compete in the London Olympics and the Commonwealth Games.
http://edinburghnews.scotsman.com/index.cfm?id=1390982006
Also in Scotland, Helga McGilp has been appointed director of the Scottish Association of Sign Language Interpreters. When she takes up the post in Edinburgh in November, she will become the first Deaf director of a professional association of sign language interpreters anywhere in the world. Heather has been working as director of the Scottish Deaf Association up until now.
http://www.eveningtimes.co.uk/hi/news/5057033.html
The Irish Deaf Women's Group has secured funding of €18,000 from the National Women's Council of Ireland to hold three workshops and a conference. The events will run until April 2007 with the aim of empowering Irish Deaf women. The planned workshops are on Assertiveness, Citizen's rights and Empowerment. The first one is this month.
For more information on the any of the workshops or the
conference please contact the IDWG at 0861719570 or email
projectworker.deafwomensgroup@yahoo.ie
Presenter Search
This series we're searching for a brand new presenter for Hands On! If you'd like to see yourself on screen with Senan, Julianne, Sean, Teresa, Eddie and Caroline, send us a video that shows us your presenting skills! We would like to see you presenting a story that interests you, and interviewing someone (it doesn't matter who!). We will show your video on Hands On and our panel of judges will decide who will be the newest member of the Hands On team!
We're looking for presenters of all ages so don't be shy! Send your videos (Mini DV tape or DVD) to Hands On, 6 Wilton Place, Dublin 2 before November 31st 2006. Videos should be no longer than 3 minutes. If you would like more information please email us: handson@mindthegapfilms.com Good luck!

CONTACTS
Water Polo
Irish Deaf Sports Association
http://www.irishdeafsports.com/
40 Lower Drumcondra Road,
Drumcondra,
Dublin 9
Email: info@irishdeafsports.com
Fax: 01 8500499
Mobile(Secretary): 087680076
National Aquatic Centre
www.nac.ie
Snugborough Road,
Blanchardstown
Dublin 15
Tel: 01 6464300
Email: info@nac.ie
Car Clamping
Irish Deaf Society (IDS)
www.irishdeafsociety.ie
30 Blessington Street,
Dublin 7
Email: info@irishdeafsociety.ie
Minicom: 00353 1 860 1910
Fax: 00353 1 860 1960
Tel: 00353 1 860 1878
Dublin Street Parking Services
www.dsps.ie
P.O. Box 9965
Dublin 2
Tel: 01 602 2500
Email: info@dsps.ie
Text No. for getting unclamped: 086 8224123
Do not text this number unless your car has been clamped. For information about the text service email info@dsps.ie
St. Joseph's House
St. Joseph's House for Adult Deaf and Deafblind,
Brewery Road,
Stillorgan
Dublin
Tel: 2893160
Fax: 2899463
Anne Sullivan Foundation for Deaf Blind
40 Lower Drumcondra Road,
Dublin 9
Tel: 01-8300562
Fax: 01-8300562
News
Gallaudet University
www.gallaudet.edu/
800 Florida Avenue, NE,
Washington DC 20002
Minicom/Tel: 202 651 5000
Scottish Association of Sign Language Interpreters
http://www.sasli.org.uk/
Scottish Deaf Association
http://www.signcommunity.org.uk/
Suite 222, The Pentagon
36 Washington Street
Glasgow, G3 8AZ
Email: scotland@signcommunity.org.uk
Videophone IP: Glasgow.bda.bslphone.com
IP: 81.158.182.123
Text: 0141 248 5567
Tel: 0141 248 5554
Fax: 0141 248 5565
Irish Deaf Women's Group
30 Blessington St,
Dublin 7.
Text: 0861719570
Email: projectworker.deafwomensgroup@yahoo.ie