This week - 4 November 2007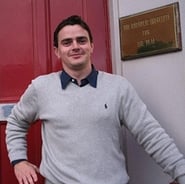 Sean at the Catholic Institute for Deaf People
Click here to watch the programme...
Hands On is back this Sunday the 4th of November at 10:45am on RTÉ One! And this year we're going to be on every Sunday!
This series we're doing things a little differently. We'll be changing every week - one week will be the usual magazine programme, like this Sunday, with a few different stories and reports, the news and Molly and Mr. Milk and the next Sunday will be a feature programme where we look in depth at one subject. Our first feature is next week with Sarah Jane looking at employment for Deaf people - access, barriers, services and attitudes. Don't miss it!
On this week's Hands On Sean looks at the closure of the Dublin Deaf Club on the Drumcondra Road, Sarah Jane and Caroline Worthington go to the European Deaf Football Championships and returning with our usual favourites: News with Senan and Molly and Mr. Milk. Enjoy!!
Deaf Club
Sean investigates why the Deaf Club in Drumcondra has been ordered to sell up to make way for a new Metro Plaza. We talk to Fr. Michael Cullen from the Catholic Institute for Deaf People (CID) to see if anything can be done to prevent the club being demolished and where they plan to build the new club. We find out how the Deaf community who use the club feel about the closure and also meet the legendry Con Lynch who has been involved in the Deaf club for the last 45 years to find out how he feels about the move.
European Deaf Football Championships
Last summer we sent our presenters Sarah Jane and Caroline Worthington to Portugal for the European Deaf Football Championships. They returned with a video diary that focuses more on the players legs than on the matches!
Molly & Mr. Milk
We have a brand new series of Molly and Mr. Milk and their alphabetical adventures! This week Molly has a run in with the moon who steals all the letters from her book!
To win a Molly and Mr. Milk Jigsaw, all you have to do is draw a picture of a magic slide.
Send it with your name, address and age, to:
Hands On
6 Wilton Place
Dublin 2.
News with Senan
WFD Conference in Madrid
Deaf people from all over the world converged to Madrid, Spain for the 15th World Congress of the World Federation of the Deaf during 16th - 22nd July 2007. Hands On screened a programme from last series and one of our Presenters, Sean Herlihy also gave a presentation on setting up the IUK Camp.
Many Deaf people remarked that Madrid was the Deaf Capital for 2007!
In June the Spanish Congress approved a bill that supports both Spain's sign languages - Catalan and Spanish.
It wasn't all plain sailing, however. Protests were held outside the Congress venue as many Deaf people were unable to afford the high admission fees of 600 Euros for the week.
ISL awareness Week
22nd - 28th September saw the 3rd annual Irish Sign Language Awareness Week organised by the Irish Deaf Society. There were a number of events such as a fashion show, cultural evening, drama night, quiz and an open evening on the work of the Centre for Deaf Studies at TCD.
The IDS kick-started the event with the ISL Pride Parade. This was the IDS's 5th march. Over 500 people came to the march to demand that the Government recognises Irish Sign Language in the Constitution. The IDS has said that it was their most successful march as there was more public awareness and media coverage.
Oireachtas Debate
On October 4th, at the Oireachtas Debate, Deputy Tony Gregory asked the Minister for Justice, Equality and Law Reform, Deputy Brian Lenihan if he will recommend to the Government that steps be taken to recognise Irish Sign Language as an official language of the State, to which Mr Lenihan replied, "I have no role in relation to the recognition of official languages in Ireland."
From this statement, it seems that the Irish Deaf Society and supporters of the Campaign to get ISL recognised will have to continue to campaign and influence as many government officials as they can!
St Joseph's 150 years Celebrations
Staying with the theme of home, St Joseph's School for Deaf Boys celebrated their 150 year anniversary on the weekend of 19th - 21st October 2007. President Mary McAleese visited the Deaf Heritage Centre, after talking with officials she then moved to St Joseph's School for Deaf boys and was presented with the new book about the history of St. Josephs.
Swimming Championships Taipei
Congratulations to the Irish team who took home 5 medals at World Deaf Swimming Championships in Taipei. The team came 6th out of 23 teams.
Other News
Men's Health DVD
One of the highlights of ISL Awareness week was the launch of a new DVD aimed at Deaf men. The Information on Men's Cancer DVD was produced by the Irish Deaf Society so that Deaf men can be aware of their own health and possible risks they take. The DVD gives information on the types of Cancer as well as promoting a healthy lifestyle. Along with the DVD, there is a book for professionals giving some basic Deaf Awareness.
If you would like a copy of the DVD and book, please contact the IDS
DVD Competition
If you would like to win a subtitled DVD of Ocean's 13 courtesy of Warner Brothers just answer this simple question:
Which actor plays Danny Ocean in Ocean's 11, 12 and 13?
Text your answer to 086 173 6131
or
Email your answer to handson@mindthegapfilms.com
SMS messages are charged at your usual network rate.
Don't forget you must include your name, address and age! Good Luck!
Catholic Institute for the Deaf
http://www.cidp.ie/
Dublin Deaf Association (Deaf Club)
40 Drumcondra Road Lower,
Dublin 9
Tel: 01 830 0522
Fax: 01 860 0231.
Railway Procurement Agency
E-mail: info@rpa.ie
Freephone: 1800 67 64 64
Text: 086 6000 335
Freepost: Railway Procurement Agency
PR Department
Parkgate Business Centre
FREEPOST
Dublin 8
Ireland
http://www.rpa.ie/
St Joseph's School for Deaf Boys
http://www.stjosephsboys.ie/
Cabra,
Dublin 7.
Tel: 01 838 0058
Fax: 01 838 0230
E-mail: stjosephscabra@eircom.net
THE 15th WORLD CONGRESS OF THE WORLD FEDERATION OF THE DEAF (WFD)
Congress Secretariat
C/ Islas Aleutianas, 28
28035 Madrid SPAIN
Phone: +34 91 376 85 60
Fax: +34 91 376 85 64
URL: wfdcongress@cnse.es
Web site: http://www.wfdcongress.org
Irish Deaf Sports Association
http://www.irishdeafsports.net/
40 Lower Drumcondra Road,
Drumcondra,
Dublin 9
Email: info@irishdeafsports.com
Fax: 01 8500499
Mobile(Secretary): 0876800768
SMS only
President: +353 872359296
Vice-President: +353 868079718
Treasurer: +353 871349877
Football: +353 871349876
Irish Deaf Youth Association (IDYA)
www.irishdeafyouth.com
www.idyablog.com
30 Blessington Street,
Dublin 7
Fax: 353 1 8601960
Tel: 353 1 8601878
Minicom: 353 1 8601910
SMS: 085 7374734
Email: info@irishdeafyouth.com
Irish Deaf Society (IDS)
www.irishdeafsociety.ie
30 Blessington Street,
Dublin 7
Minicom: 00353 1 860 1910
Fax: 00353 1 860 1960
Tel: 00353 1 860 1878
Warner Brothers
www.warnerbros.com